Pokies based on popular movies and television shows offer some of the best graphics and special features you'll find in online gaming and have become some of the most sought after slot games on the Web. There's something about the excitement of playing for real money while also reliving a cherished cinematic experience or playing amongst familiar characters that adds to the virtual gaming experience.
We've compiled a list of some of our favourite movie based pokies games, each of which can be found at our recommended casinos like Slots Million, Rizk and Guts Casino.
Jurassic Park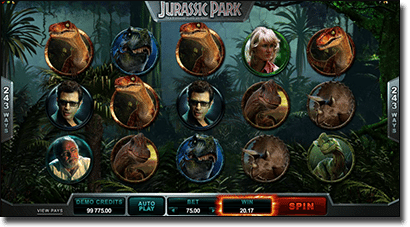 With the 2015 release of Jurassic World, the Jurassic Park pokies game is back on the scene in a big way. The game captures the essence of the original larger-than-life movie perfectly, with photographic stills from the film featuring characters played by Laura Dern, Sam Neill and Jeff Goldblum.
One of the coolest things about the Jurassic Park slot game is the bonus features, like the Tyrannosaurus Rex, Velociraptor, Brachiosaurus, Triceratops and Dilophosaurus free spin rounds that each comes with its own unique bonuses. The T-Rex Alert Mode can also be triggered randomly at any time, adding 35 extra wild symbols to the reels during the next six spins, opening the doors for huge wins.
Terminator II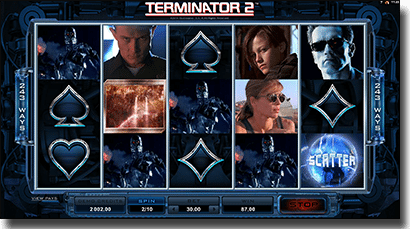 Before Arnie became the Governor of California and had an affair with his former housekeeper that tarnished his name forever, he was the biggest baddest dude ever as The Terminator, one of the most popular action figures to ever come out of Hollywood.
This 1991 film is as loved today as it ever was, with the popularity of the pokies version of Terminator 2 testament to this fact. Created by Microgaming, the Terminator slot game features real footage from the film, with characters including John Connor, Sarah Connor, T-1000 and T-800.
Aliens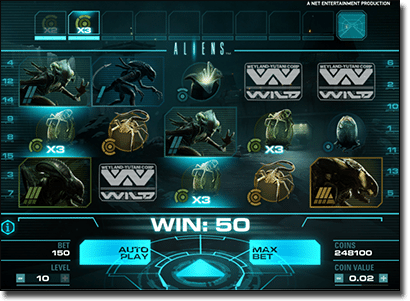 Sci-fi lovers and fans of the 1986 blockbuster hit Aliens directed by James Cameron can't get enough of this NetEnt slot game, with stellar symbols and a chilling soundtrack adding an eerie vibe that cranks the suspense up to full bore.
Not only is this game visually executed in flawless NetEnt fashion, a unique bonus feature allows you to level up as you progress through more winning spins. Players move up between three stages; The Search, The Encounter and The Hive, with different missions set within each level.
Rambo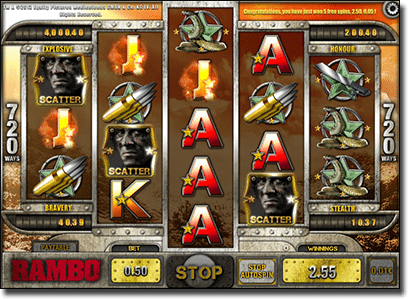 iSoftBet's Rambo brings Sylvester Stallone's iconic character to the reels in action packed style, with all the aggression and violence from the classic film. If you love machine guns and military action, you won't find a better online pokies than Rambo, with the reels boosting to life with gunshots, snake handling and bows and arrows for all your macho needs.
There's a couple of great bonus features too – an appearance of five or more of the games progressive symbol (the grenade symbol) triggers one of four possible jackpots, while a randomly selected symbol can appear during free spins to spread across the reels and grant even bigger wins.
Scarface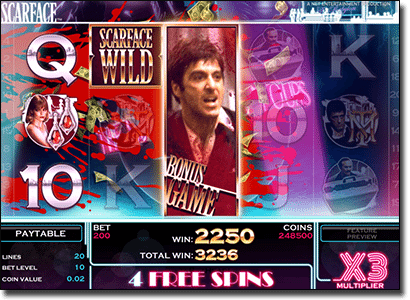 Scarface is possibly the best slot game out there in terms of offering fans of the movie an authentic experience. The games wild and scatter symbols are made up of real photographic imagery from the film, coming to life in full animation when triggered, complete with authentic sound effects and famous one-liners like "say hello to my little friend!"
Al Pacino is all over this game in all his Tony Montana glory and the bonus rounds are kicked off with scenes direct from the movie, no matter how bloody or violent, with appearances from the sultry Michelle Pfeiffer. Bonus games offer innovative features that we don't usually see in pokies, like the chance to win money based on assuming the role of Tony and aiming to shoot as many rival gangsters as possible before you get killed. Scarface combines gambling with traditional arcade style gaming pulled off in a cool 80's retro way that's impossible not to love.
Game of Thrones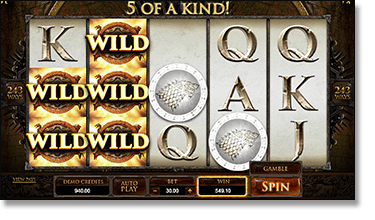 Okay, so GOT isn't technically a movie, but we had to add it to our list as it's one of the most popular online pokies based on a television series.
Microgaming's Game of Thrones slot doesn't actually have any imagery or screen shots from the HBO series, but with fans going nuts for anything GOT related that doesn't seem to be a deterrent. Regardless, the graphics are pretty sweet and this game is worth playing just to feel slightly closer to Westeros and Essos.
The Dark Knight & The Dark Knight Rises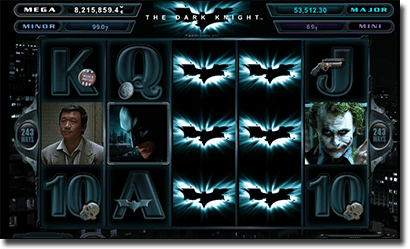 This duo of popular slot games emerged from the Christopher Nolan films starring Christian Bale and the late Heath Ledger, bringing the intensity of Gotham City to online casinos everywhere.
In the original game (which also has a progressive jackpot) players have the choice to enable 'cinematic spins' which activates clips from the movie, giving you the choice of how closely linked this game is to the cinematic experience. The sequel, The Dark Knight Rises, is a tiny bit visually superior but the original Dark Knight slot gets more love due to its progressive jackpot nature.
Basic Instinct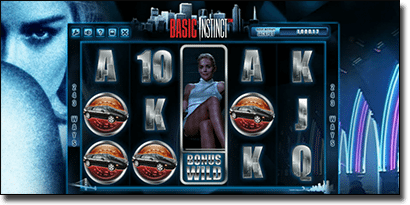 The Basic Instinct pokies game doesn't really have that much to offer in the way of film similarities, other than the fact that a luminous Sharon Stone shadows over the game from the side of the reels at all times. The symbols are all loosely linked images relating to the film like guns and cars, other than the Sharon Stone wild that comes along from time to time.
A great bonus game allows you to open as many suitcases as you can to reveal the cash prize lying inside before stumbling across a pair of handcuffs that ends the game. Ultimately, this is more a Sharon Stone pokies than a Basic Instinct pokies but if you're a fan of this iconic actress then you certainly won't be complaining and the game has an unmistakably 90's vibe which makes it kinda cool.
Rango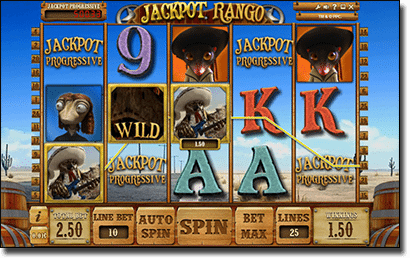 Rango is a beautifully animated film that provides the perfect basis for a video slot game, so iSoftBet had their work cut out for them with this one. The level of detail in this game isn't quite as grand as the movie from which it came, but it's a fun choice for those movie lovers who prefer their pokies on the less serious side.
This Paramount Pictures film features the voices of Johnny Depp, Isla Fisher and Timothy Olyphant and while you won't find any scenes from the movie, the characters are all there including Rango, Beans, Priscilla, the Mayor and Rattlesnake Jake.
Some other popular slot games based on movies and TV shows include:
Psycho
Tomb Raider
Nacho Libre
Little Britain
Gladiator
South Park
The Love Guru
Beverley Hills 90210
The Invisible Man
Each of these movie based pokies can be found at SlotsMillion.com playable for free in demo mode or for real money bets along with over 1,350 other incredible slot titles. Follow our links to sign up for an account at Slots Million today and receive an awesome welcome bonus upon arrival.