The most popular form of online slot game you'll find on the Internet is the 243 way format, which was only a relatively recent revelation that completely reshaped pokies gaming software. From the 243 way slot emerged the less common but much loved 1024 way pokies format, and even more elaborately still, 3125 way pokies.
In this article, we'll explain what 1024 way pokies are, how they work and what 1024 way games are available at our favourite, secure online casinos.
You can play 1024 ways online slots games at the following casinos:

Top casinos with 1024 ways slots
How do 1024 way pokies work?
1024 way pokies (sometimes called all-way pokies) work just like any other slot machine game, the difference being that winning combinations are able to appear over a much wider range of pay lines and combinations.
With a standard five reel pokies game, winning spins can only be a result of between five and 25 pay line combinations, whereas 1024 way games break down all these barriers and can be made up of any winning combination, appearing in any order, hence the name "all-way pokies".
1024 way games are made up of five reels, with four symbols per reel, so if you want to think about it mathematically, consider the calculation of 4 x 4 x 4 x 4 x 4 (four reels x five symbols) = 1024 ways to win.
To put it in as simple terms as possible, 1024 way pokies provide more ways to land a winning combination and therefore, more ways to score a win on the pokies.
Best 1024 way online pokies
The selection of online 1024 way pokies is still fairly limited, so while you'll find hundreds of 243 ways games, there's only a handful of 1024 ways out there.
Arctic Fortune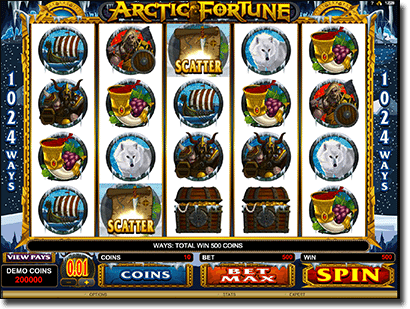 Arctic Fortune uses a Nordic fantasy theme to take players on an icy journey through the frozen plains of the Arctic, using all kinds of exciting symbols like wolves, Vikings, treasure chests and beautiful maidens. The bonus round featuring a 900,000 coin jackpot will keep you hanging on for more, while features like scatter symbols and wild multipliers make for an adventure filled playing experience in this popular Microgaming 1024 ways slot game.
Leagues of Fortune
Leagues of Fortune uses an impressive aquatic theme with nice crisp graphics that are fun to watch as you spin the wheels in hopes of that huge 1024 ways win. With such high chances of landing a winning spin, the best thing about Leagues of Fortune is the free spins bonus round, where all winning spins are multiplied by five, bringing the potential for some lucrative wins. Because of the 1024 way format of the game and the addition of stacked wilds allowed on all reels, there's a chance to land the jackpot during every single spin. This 1024 way game is a favourite across Microgaming powered casinos.
Secret Santa
Enjoy that yuletide festive cheer every day of the year with the 1024 ways to win Secret Santa online pokies game. It may feel odd looking at a screen covered in Christmas trees, turkey dinners and present stuffed stockings in the middle of July, but once you get a taste of the prizes up for grabs you'll be happy to play this Christmas themed slot game during any other holiday. With a bunch of sweet features, Secret Santa's drawcard is the fact that it also has seven mystery features, including free spins, rolling reels, a scatter spree and dashing wilds.
Hot Ink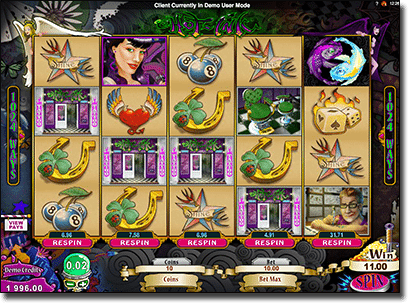 Following in trend of the massively popular tattoo reality shows like LA Ink, Miami Ink and Tattoos After Dark, Hot Ink brings the vivaciousness of a hip tattoo studio to the reels of a 1024 way pokies game. These symbols are really unique, including traditional, old-school tattoo designs like eight balls, cherries, nautical stars, flaming dice and cute pinup girls. Hot Ink has a cool rockabilly vibe that's a blast to play, enhanced by the possibility or more frequent wins with the 1024 way format.
Where to play 1024 way pokies
You'll find these 1024 way pokies games available for free play in demo mode or for real money bets at our favourite Microgaming casinos, although these are no longer available to Australians
The top Australian online casinos with 1024 ways pokies games are significantly different these days, with games from the likes of Betsoft, RealTime Gaming and Evolution Gaming common-place.
You can play 1024 ways online slots at the following casinos: