Why are the pokies the most popular form of gambling in Australia? There are more slot machines (also known as poker machines) in Australian than any other form of gambling game. In fact, there are more pokies across Australia than any other country in the world. Here are a couple of interesting Australian pokie statistics:
On a per capita basis, Australia has roughly six times as many pokies machines as the United States.
The amount of slot machines in Australia represents a little more than two per cent of all the electronic gambling machines across the globe.
While it makes sense the reason behind the pokies popularity is the prevalence of slot machines, this begs the question just why pokies were able to become so prevalent, and why they were so enjoyed, in the first place?
Best online pokies sites
Casino
Bonus
Games
Pokies
Signup
Why are the pokies so entertaining?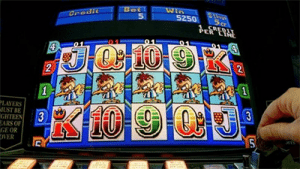 Flashing lights, bright colours, huge jackpots on offer, inexpensive fun – these are all reasons as to why pokie games are enjoyed throughout our country. Slot machines were originally introduced to Australia in the early 1900s, but were in fact illegal to play at the time. In 1953, the company Aristocrat began developing more of these machines in Australia, and shortly after, slot games were legalised in registered and licensed clubs by the New South Wales government. Other states would soon follow suit in the years to come.
Early games were very basic in style, with no lights, only three spinning reels and a maximum of five lines (paylines). But, they were still enjoyed by many gamblers, as this was a new form of entertainment the majority of people had not seen before. As technology advanced, so did the interactivity and styles of the gaming machines, with games soon expanding to five reels with numerous more winning paylines, along with other ways to win than simply lining up specific icons, such as free spins, bonus rounds and being able to double winnings (gamble features).
These improvements increased the popularity of the games, as did the fact more and more venues were given legal licenses to operate the pokies, such as casinos, hotels and sport and RSL pubs. Today, games are based on movies, TV shows, comic book heroes and other cultural themes, with mega prize payouts reaching hundreds of millions of dollars – another key factor as to why they are so popular; the allure of hitting that life-changing jackpot.
Moreover, pokies require no skill and are, when stripped back to their bare essentials, basic at heart. Many people enjoy not having to ponder too much when enjoying a drink and some light-hearted fun, with the possibility of making some extra cash for the weekend (or maybe even more). And now, with modern-day online pokies employing even more alluring, engaging and graphically-advanced games, the slot machine has become a unique gaming experience Australians have become very fond of.
Online pokies and their popularity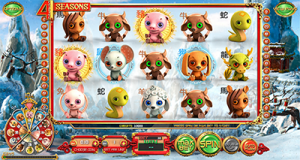 Since the introduction of online pokies at real money Internet casinos in the early 1990s, Australia has been relatively slow in comparison to other countries to catch on to the hype surrounding this new form of gambling, largely due to government restrictions. In more recent times however, the country has gradually caught up and now hundreds of online casinos offer high quality, real money, online and interactive pokie games (and other casino games) to Aussie residents in AUD currency. It is completely legal for Australian residents to access these services, too.
With less overheads to pay, online casinos also give players better value for their time and money spent playing the pokies and other casino titles. With a far greater variety of slot titles than any individual land-based gambling establishment, Internet and mobile pokie games also utilise technology with the ability to generate incredibly interactive and visually-advanced gaming experiences, far superior to what you'd find at your local pub. This, along with the fact Internet slot games incorporate some of the most cherished characters, movies, themes, and songs in modern pop-culture, further popularises the beloved pokie machine.
What is also making online pokies even more popular today, is the fact land-based gambling venues across Australia which host pokie machines need only provide a minimum return rate (payout rate*) of around 85 per cent. This percentage differs from state to state (Queensland is 85% and Victoria is a minimum of 87%), but is no where near the required minimum payout rate of regulated and licensed online casinos.
An Internet casino will be required, by law, to make its payouts rates publicly available, and for pokie games, should be no less than 95 per cent. If you find a gaming site which has rates less than 95 per cent, we advise playing the pokies for real money online elsewhere. Our recommended casinos on this site are licensed online venues for Australians to enjoy secure and high quality AUD pokie games, all of which hold slot return rates of 95% or more.
*The payout rate, return rate or payback percentage of a slot machine is the estimate of what you can expect in return (as winnings) from the gaming machine itself, over its lifespan. So if a pokie has a lifespan of 20 years, and a payback percentage of 87, it will payout in winnings over those 20 years, 87% of all money ever put in to it.
Problem gambling and pokies relationship
There are suggestions the abundance of poker machines in Australia has led to an increase in the levels of problem gambling, however the nature of this relationship has not at all been comprehensively proven. More research is required on the matter.
When playing the pokies (or any other game of a gambling nature), it is imperative to gamble within your limits – only play with as much as you can afford to lose and stop if you are beginning to chase your loses. Gambling should be a fun activity, which is why pokies can and are enjoyed responsibly, by hundreds of thousands of people around our country.