When the pokies were first invented, we needed to line a few symbols up in order to win and be paid accordingly – usually gum or lollies for the earlier fruit machines. But now, thanks to the introduction of the Internet and innovative software providers, pokies have advanced to include multiple ways to win including unique bonus rounds. We take a look at some of the quirkiest bonus features we have come across and how they have changed the way we play the pokies forever.
Best online pokies sites
Casino
Bonus
Games
Pokies
Signup
Pokies bonus games
Bonus games are unique additions to modern video slots where players unlock a bonus feature via a certain combination of symbols, for example three Bonus symbols. Here, players can win coins or free spins as a unique way to win on slots – instead of simply landing a combination and winning.
Bonus games can range from pick me bonuses, multi-level bonuses, Wheel of Fortune type bonuses, and more – most requiring luck but there can be some out there which require skill.
It adds to the entertainment value and when you find some seriously unusual bonuses, gameplay can completely transform your gaming experience.
Quirkiest slots bonus features
We have found some of the best slots with unique bonus features for you to try out – you can find them at our recommended pokies sites, which are all encrypted and secure.
Bridesmaids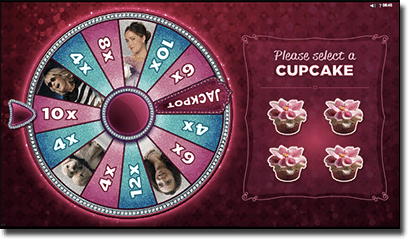 Bridesmaids has been created by top leading software developer Microgaming, in conjunction with Universal Pictures, and while a slot machine based on a popular film is generally enough to entertain players, the software provider went all out in terms of bonuses too.
The inclusion of a Wheel Bonus, where you spin a wheel to reveal a cash or other prize, is generally enough but this slot has also included four extra bonus features you can activate via the wheel.
Three Scatter symbols (the cupcake) will trigger the wheel and you can win either a cash prize or trigger one of the following bonuses;
Friendship Free Spins: 10 Free Games with an extra Wild and Stacked symbols, pays both ways
Flying High Free Spins : 10 Free Games with Growing Wilds and Rolling Reels
Boutique Bonus: Match three of the Bridesmaids characters to win prizes, as well as multipliers
Magic Moments Bonus: Pick clips from the film to win, but be careful not to pick the carrot as it ends the bonus
The way Microgaming have formatted the bonus features it quite unique and while the cupcakes, wedding talk, and bright pink theme might put you off, it is well worth having a spin.
Gemix
Gemix by software developer Play'n Go is jam packed full of features, which is why this slot is one of the best for quirky bonuses.
Cascading Reels: This feature has become quite common in many slots as of late, but it is still a unique addition. Here you need to match five symbols and they will explode, while new ones will fall in their place.
Additionally, a multiplier will be applied and increase on consecutive wins.
The Crystal Charge Metre: This is the real bonus which makes Gemix so unique as every time you win, a metre on the side of the reels fills up and when it reaches the maximum amount the following bonuses can occur:
Chain lighting: Two symbols in the corner connect and turn every symbol between into the same colour
Light beam: Rays of light shoot both horizontally and vertically and turn every symbol in its path into the one colour
Crystal warp: A symbol is picked at random and every symbol with the corresponding colour is turned into the most common symbol on the reels
Novablast: A symbol is picked at random and explodes, taking a number of surrounding symbols with it. New symbols then fall into their place
SuperCharged crystal: Creates bigger wins on Cascading Reels with all wins multiplied by 3x
As you can see, it doesn't even seem like we are talking about a slot machine anymore with these bonuses – rather a video game where we can win real money.
South Park
Net Entertainment have created this slot based on the popular show South Park and have done the animation justice with the inclusion of so many quirky bonus features.
With the theme song playing in the background it can feel like you are watching the series, but once you have collected each characters' Bonus symbol on the 5th reel you will feel as though you are playing the video game as the following bonuses are activated:
Kyle Bonus Spin: If Kyle is the character's Bonus symbol you have managed to score you will be awarded 10 free spins and if his brother appears too you can activate three additional free spins, a random multiplier (anywhere from 2x to 10x), as well as extra coins.
Kenny Bonus Game: If you've managed to collect Kenny's Bonus symbols you will be granted three lives to save Kenny from danger – earning coins and multipliers in the process. You are required to avoid falling objects, car accidents and more, and can be awarded up to 139,000 coins in doing so.
Cartman Bonus Game: If you've scored Cartman's Bonus symbols you will be having some fun aiming a fire extinguisher at hippies behind eight bushes to reveal prizes and multipliers. If you get busted by the police, who is also hiding behind a bush, the bonus will be over however. You can win up to 1,250,000 coins here.
Stan Bonus Spins: If you land Stan's Bonus symbols you will land a Sticky wild on the middle reel for two re-spins. Sticky Wilds can then reappear, triggering two extra re-spins every time they do. The bonus game will only end when there aren't any Sticky Wilds left.
As you can see, pokies have changed dramatically due to the inclusion of bonus rounds. While we love multipliers and free spins, the addition of multi-level features and unique bonuses add a sense of value to the player so if we do happen to lose we don't feel ripped off – almost like when we pay for a gaming app on our smartphone or tablet as it is entertaining. However, with these slots we actually get the chance to win some money.
Looking for other pokies to try online? Check out our guide to the most fun pokies games.