Pokies have come a long way since the pub fruity machine when you used to need three matching fruits along a line to win a prize. These days most machines have at least 243 ways to win a prize when you are playing maximum lines. Since the classic pull handle, or the one line wonder, took a back seat the new machines have given players the opportunity to win big bucks and these benefits can be amplified even further by playing online.
Best online casinos with 243 Ways pokies
Casino
Bonus
Games
Pokies
Signup
Online-based casinos in particular offer plenty of 243 line machines, with enhanced graphics and a greater chance of winning the main selling points to players. We explain more about 243 Ways pokies and the features these games offer.
How do 243 ways pokies work?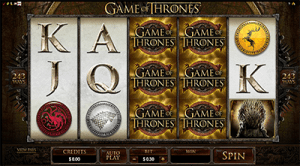 243 way machines work with a similar win system to regular games, with the emphasis on matching icons, which simply need to fall adjacent to each other on the reels to form winning combinations.
This means if you land three symbols that match anywhere on reels 1, 2 and 3, you have formed a winning combination. Added to that, if you are able to find either a substitute or two more matching symbols on reels 4 and 5, the win is increased.
Furthermore, the 243 ways games typically include scatters, substitutes (also known as wilds) and bonus features. The presence of scatters and wilds offer players even more chances to form winning patterns as they match up with any symbols that align with them.
Bonus features also offer a whole different level of entertainment, with free games, usually stacked with wilds, multiplied wins and a multitude of other exciting options that gives the power back to the player.
Typically the amount you spend per spin is dependent on the amount of lines you are playing, and the bet value. For example, if you are playing a five line machine, a dollar per line and you are playing full lines, each spin will cost you $5.
This can be hard to process for first time players when trying out a 243 way game, so always remember that bet value does not directly equate to the amount you will spend on each game, but it is indicative of the amount you will spend per line.
How to trigger a bonus on 243 ways machines
Generally a bonus game will be triggered when you get three or more of a bonus symbol. For instance if you were playing Queen of the Nile you would need three pyramids to set off the bonus game, which is 15 free spins. Obviously each machine has different bonus triggers so be aware what you need before you begin playing.
Other types of pokies games
As you can imagine, pokies range from one line machines like you see on movies featuring Las Vegas all the way up to the 243 ways games.
Many sites like RoyalVegas.com feature all the favourites you see in your local pokie lounge, such as gold mining themed 'Where's the Gold', the five line favourite Big Red, set in the Australian outback, all the way up to the new favourites, such as movie-based titles like the Bridesmaids slot game and Jurassic Park.
A lot of these games will have a guide when you first start playing them as to how many lines will be played per spin as a maximum, and you can always adjust this as you go along.
What are some of the best 243 ways pokies?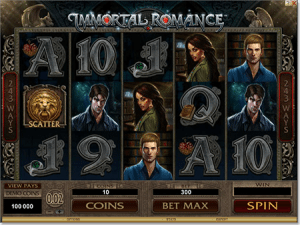 A lot of the most popular games on the market right now are utilising the 243 ways system. Games such as Immortal Romance, which is available to play at 32Red Casino is one game in particular that has the players raving.
Based on the ever popular Vampire Romance genre, Immortal Romance is an immersive thriller that puts plays deep in the storyline and keeps them entertained. No expense has been spared bringing this game to life, with never before seen storytelling written specifically for a gaming machine.
There's also Dark Knight, featuring all the key elements of the final instalment of Christopher Nolan's epic three movie series, gamers are thrown into the world of Bruce Wayne, the enigmatic billionaire who must save his beloved Gotham city from one of the most diabolical villains he has ever come across, the fearsome Bane.
With bonus features, random wilds and fantastic sound and visual quality, The Dark Knight Rises is a favourite amongst newcomers and seasoned pros for a reason — it is a fantastic game.
Or if TV themed games are more your style, the ever popular Battlestar Galactica may be right up your alley. Symbols are members of the original cast making this game a must-play for fans of the original series, but there is enough bonuses, cinematic cut scenes and movie quality sound to keep even the most casual of gamer entertained for hours on end.