Besides the fact that iPhone and iPad chargers can crack a beer open, the Apple smartphone and tablet can also act as a portable casino to play the pokies on. This means no matter where you go, you can whip you your iPad or iPhone out and play your favourite real money pokies. We have some tips on where to play, the best slots to try out on your portable Apple device/s, and more. The best iPhone casinos generally don't have apps in Australia, with this a similar story on iPad tablets. However iPad pokies sites can be accessed via online casinos instant-play sites. The best pokies sites for iPhones and iPads for June, 2023 are:
The best iPhone and iPad casinos
Many online casinos have taken advantage of the portable age and rebuilt their sites for the HMTL5 platform, which is what makes a site compatible with iPhone and iPads. This means there are quite a few out there but only a selection are a step ahead the rest in terms of security, offering fair and fun games, and an easy to navigate iPad or iPhone site. The best iPhone & iPad casinos include:
Royal Vegas
Casino Mate
Guts
G'day Casino
Why play the pokies on your iPhone or iPad
There are a number of advantages to playing the pokies on an iPhone or iPad, but there are drawbacks too, so weigh up the pros and cons or try them out yourself to decide if you enjoy playing the pokies on your Apple gadget.
Advantages
You can play anywhere you have a 4G, 5G or WiFi connection
iPads are portable yet you can still enjoy HD quality on a big screen
iPhones are easier to whip out and play when and wherever you may be
Drawbacks
HD graphics and zap the battery
Games can be slow to load
Not as many games available as on the desktop site
Tips to playing the pokies on your iPhone or iPad
We have an entire page devoted to playing the pokies on your mobile, but when it comes to iPads and iPhones specifically, we have listed a few tips here to make playing on your Apple device a lot smoother and easier.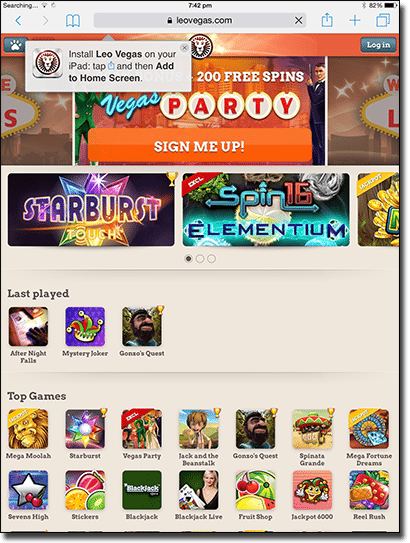 Disable the lock feature: Disable the lock function, whether you do so by swiping up or via your device's settings, so you don't have to get out of the game if you are required to play in landscape mode. Some software developers, such as Microgaming, do require you to play in landscape mode, while others don't.
Switch your sound on or off: If you are playing in an environment where you don't want sounds to randomly blast out, turn the sound off on the side of your iPhone or iPad before you open the title up. You can wait to mute the sounds as some software providers automatically prompt you to do so, but others might not.
Tap and swipe to view the paytable and other features: When first playing the pokies on your iPhone or iPad it can feel a bit different. For some software developers, such as Microgaming you will need to swipe right or left to view how to play, the payable, change the bet size and more, while other software developers, offer these features in an icon which you tap on, such as Net Entertainment and BetSoft's icon with three horizontal lines.
How to play the pokies on your iPhone or iPad
There are a few ways you can play the pokies on your Apple smartphone or tablet, and which method you go with ultimately comes down to what you prefer.
Mobile casino via browser: While the standard way to play games on your iPhone or iPad is generally to download an app, the standard way to play real money pokies is via your mobile browser, which is generally Safari though many Apple users download other browsers such as Chrome or Firefox from the App Store that are also compatible.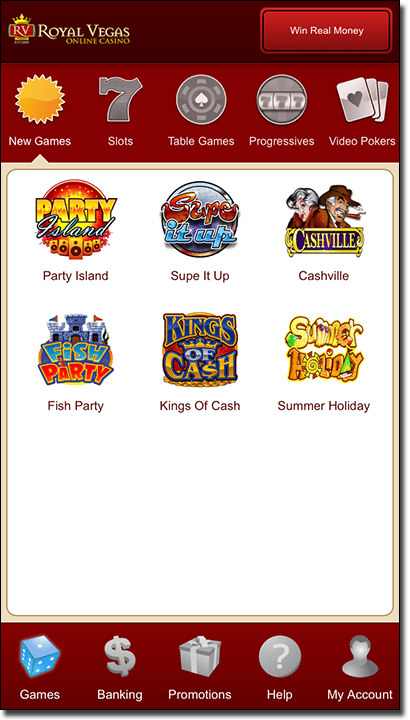 Native casino app: Since Apple users are app lovers it can be understandable that you want to be able to access your favourite mobile casinos from your home screen. You can do this by either opting to play at the popular and well known casino Royal Vegas, with a native app available to download from their mobile site called Regal Vegas. For those of you that don't know what a native app is, it is what you download from the App Store or from a mobile site, but it takes up storage as it relies on the mobile software rather than the mobile browser.
Many software developers have avoided creating one due to legislation, but Royal Vegas found a loophole and offer Regal Vegas for iPads and iPhones.
Pokies web app: Since Royal Vegas is the only mobile casino with a native app from our recommended pokies sites, we still want an app alternative. A possible solution is creating a web app, where an icon of the casino or game sits on your home screen so you can tap on it and be taken there instantly.
To make one via Safari on your iPhone or iPad simply tap on any of the above links and then on the rectangle with the arrow in it (located on the bottom menu panel for iPhones and the top menu panel next to the URL toolbar for iPads) and then on the box with the plus sign in the middle which has the text 'Add to Home Screen'. You will be prompted to name the web app and then an icon will appear for you to tap on whenever you want to play the pokies.
If you have an individual slot game that you play a lot you can make a web app for this too by opening the game in your mobile browser and following the same instructions. They run on the mobile browser you created it with and therefore don't take up the same large amount of storage that native apps do.
We recommend making a web app if you are regularly playing at the mobile casino, or downloading the native app if you have enough storage. Generally if you have a 16GB iPhone or iPad you may have to make room for new apps or just stick to playing the games via your mobile browser.
Our favourite iPhone and iPad pokies
There are a bunch of mobile slots that work smoothly with the majority of iPhones and iPads. We have selected a few and recommended which device is best for the slot.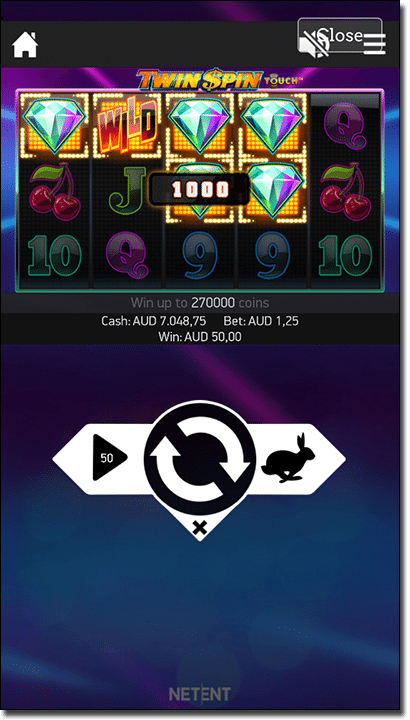 Twin Spin: Twin Spin is an incredibly popular slot by Net Entertainment and it has actually been praised by real players spinning the reels on their smartphones and tablet, as it loads quickly and smoothly. Interestingly there are no free spins or multipliers, but what makes this 243 ways to win slot so popular is that every now and then you will be rewarded with anywhere from 50x to 100x your bet. Twin Spin is perfect for iPhone users as it loads easily and is simple to play. It is also one of our top games at high stakes pokies sites.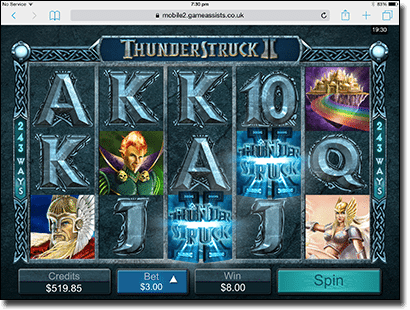 Thunderstruck II: With a Norse God theme, Thunderstruck II offers a huge 2.5 million coin jackpot, despite not being a progressive. There is four free spin bonuses where you can get up to 25 free spins with varying multipliers, and another feature randomly activated bonus where you receive a free spin with Expanding Wild reels (called the Wildstorm Feature). If you can, we recommend playing Thunderstruck II on your iPad to really enjoy the HD quality graphics.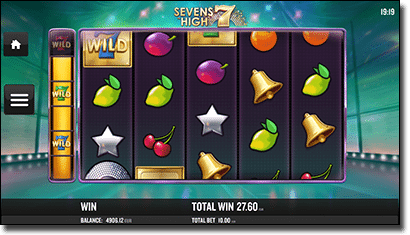 Sevens High: Sevens High, by Quickspin, is a lot like Twin Spin in terms of how simplistic the gameplay is. The graphics are quite simple too, so if you are finding slots aren't loading as quick on your Apple device try this one out. It offers the classic symbols including lemons, cherries, and more as well as 10 free spins which can be re-triggered an unlimited amount of times. Try this one if slots are slow to load on your iPhone or iPad.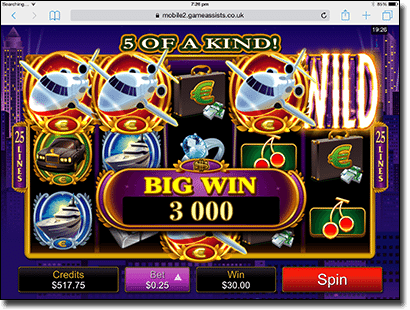 High Society: When left to their own devices, Microgaming sometimes tend to come up with let's say not the greatest themes, but they still manage to create a stellar game. So if you aren't playing the pokies for the theme you'll enjoy High Society. It doesn't really follow a story, rather it just features symbols of the wealthy such as boats, bags of money, etc. However, it does offer up to 20 free spins with up to a 10x multiplier. As this game is more about the fun involved, it is perfect for both iPads and iPhones.