Online pokies are way more advanced than their land based counterparts – this you'll notice immediately upon playing electronic casino games for the first time. Online software has much more room to move, not restricted by the high expenses which come with operating a real pokie machine. The downside is as soon as you get used to enjoying the advancements of online pokies, real life pokies start to seem incredibly lacklustre.
We take a look at some of the things online pokies are doing which could influence land based machines to create a more entertaining real life gaming experience in the future.
Pokies sites
Casino
Bonus
Games
Pokies
Signup
Mini bonus games
The video pokies you'll find at online casinos have become very adventurous with the bonus games they offer, extending far beyond the standard 'gamble' feature and offering all kinds of entertaining mini games. Usually triggered by the appearance of a designated number of wild symbols, mini bonus games come in all forms, including bonus wheels, level-up video games, puzzle games and more. Not only do mini games provide the possibility of significantly increasing your wins, they crank the excitement factor up about 10 notches. If land based pokies were to catch up with these bonus games, a much more engaging player experience would ensue.
Media licensed games
Internet gaming developers have started teaming up with big film and television corporations to bring media licensed games to the Web. This means we're starting to see innovative games with characters and themes we recognise, which adds a lot of fun to gameplay, opening the doors for all kinds of exciting bonus features.
For example, Net Entertainment recently made a deal with Universal Studios to create the Universal Monsters range of horror themed pokies, which includes Dracula, The Invisible Man, The Creature from the Black Lagoon and Frankenstein. These games are not only visually incredible, but have custom-made bonus features to suit the theme.
Here's just a sample of some of the licensed pokies you'll find online:
Game of Thrones
Bridesmaids
South Park
Jurassic Park
Basic Instinct
The Dark Knight
Rambo
Tomb Raider
24
Terminator 2
Aliens
Beverley Hills 90210
Scarface
Some of these licensed games are so obscure it's hard to pinpoint exactly why gaming developers went with certain titles, but regardless, media licensed games constitute some of the most popular online pokies. If land based pokie machines were to introduce film and TV inspired games, we're sure they'd be highly sought after.
Cinematic elements
The licensed games mentioned above not only bring better bonus features, they also provide an engaging cinematic experience, with video scenes pulled directly from the movies. Even non-licensed games can come vividly animated to cinematic proportions. You'd be surprised how much this adds to gameplay, breaking up the monotony of simply watching the reels spin on repeat.
Some online pokies contain 3D elements, as seen in BetSoft's Slots3 collection. These richly animated games use the same level of detail you'd get from a Pixar film or Xbox game – far from the simple five reel games you'll find in a land based casino. Real pokie machines can seem very outdated in comparison, and will need to add these engaging cinematic elements to keep up with their online competition.
Bigger progressive jackpots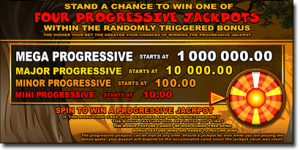 The progressive jackpot pokies you'll find online far exceed the progressive jackpots you'll find in land based pokies at Australian casinos. This is because online pokies have much larger progressive jackpot networks, with jackpots growing every time the same game is played anywhere on the linked network worldwide as opposed to simply within the one casino.
Progressive jackpot games you'll find in Australian casinos typically sit around the $10,000 to $25,000 mark, while the progressive jackpots you'll find online can reach well into the multi-millions. Microgaming's popular progressive, Mega Moolah, has a base jackpot starting at a million dollars alone, while many non-progressive online pokies come with jackpots bigger than the progressives you'll find in Australian casinos. For land based pokies to really cut the mustard, they'll need to start matching the jackpots offered by their online counterparts.
Lenient betting limitations
Online pokies give players a lot of flexibility when it comes to choosing how much real money you bet per spin. Games can be played from as little as one cent, to a few hundred dollars per spin. This is dramatically different to playing in real life, where Australian law dictates a maximum spin of either $5 or $10, depending on which state you're playing in. These laws won't change anytime soon (or realistically, ever) which is another reason online pokies trump land based machines.
Online pokies also offer something land based casinos will never be able to – the ability to play in the comfort of your own home without having to adhere to a dress code. From the examples above, it is clear electronic pokie machines have a long way to come to stand up to the stiff competition offered by online casinos.
Enjoy the benefits of online play by heading to any of the safe recommended casinos on our site, where you can play hundreds of pokies from leading game developers for real money bets in AUD.