Every time we throw a few dollars into the pokies we always hope to win the big bucks so we can buy a big house, a nice car, and even go on a holiday. Unfortunately, it is very rare that this occurs, however there are a few lucky players out there who have managed to do so, so we wanted to take a look at how much they won, what gaming machine they won on, and how it helped them secure their dream home.
Best online pokies sites
Casino
Bonus
Games
Pokies
Signup
The progressive pokies winner
Early in 2015, an Ontario man won $1 million on a slot machine known as Mighty Millionaire, a progressive jackpot connected with 24 machines throughout Ontario which helps accumulate the jackpot. Kim McNamara, a former Chrysler worker at the Windsor Assembly Plant, went to Caesars Windsor Hotel and Casino after they spent the morning shovelling their driveway because their house was snowed in.
McNamara first started with the 50 cent machines and won $175 but then moved up to the $1 progressive machines. After playing for 10 minutes he planned to give up after just one more spin, but that spin landed him $1,011,027. He shared the $11,027 between friends he use to work with, but the rest is being spent on renovations on his house and car.
So while he isn't buying a brand new house, though we do recommend it might be a good idea to avoid anymore snow days, he may as well be with what $1 million in cash can do to a house. just to do up a house.
The video slot winner
John Beatty, of Pennsylvania, won almost $700,000 at the Borgata Hotel and Casino, in New Jersey, and plans to buy his family a house with the winnings. Beatty, a manager for the grocery Giant stores, was celebrating his anniversary when he tried his luck on the Monopoly Wheel Luxury Diamonds slot machine, and with just two minutes of playing the slot he managed to win $667,106.32. The slot is basically the monopoly board game in a poker machine format and although it isn't a progressive it still offers large wins as seen by Beatty himself.
The online pokies winner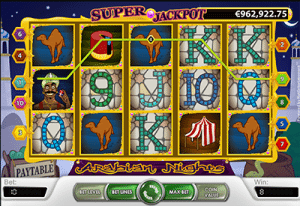 A Swedish player by the name of Monica won over €2.5 million in April, 2015 at Guts online casino. Monica was playing the online progressive Arabian Nights, by leading online software developer Net Entertainment, when she hit the €2,633,052.
Funnily enough, she didn't even realise she had won the money and went to bed. It wasn't until the next morning when she received a phone call from the Guts team that she had realised what had happened. While Monica didn't say she wasn't going to buy a new house, she did state she would on pay off her current home loan which freed up her money to go on more important things.
The smartphone poker machine winner
Royal Vegas Casino player Mark A. won 7.5 million Canadian dollars in April 2015 just by playing a progressive on his smartphone. Interestingly, Mark had only signed up to play at Royal Vegas seven days prior to his win, but managed to hit the Mega Moolah jackpot on his smartphone via the HTML5 interface. No doubt Mark also utilised the Royal Vegas sign up new player promotion, making his win potentially won due to matched deposit bonuses.
While Mark has not come out and spoken about his win just yet, we can only imagine what he would do with $7.5 million, with buying an amazing mansion is definitely at the top of his list. The online progressive is available on laptop, desktop, smartphone and tablet.
Best online pokies to win big
So now we have heard all about these lucky players, at both land-based and online casinos, who have won enough money to either buy a house, do their existing home up, of pay off a loan to make it their own, we want to know the best pokies that we can win big on.
We have found some of the best online casinos first up, which is important because if you win big, you want to be paid your winnings not have them stolen which can occur if you aren't playing at a safe Internet casino like the many we suggest. We have also selected a few of our favourite slots available at many of the suggested online casinos so you can have a go at winning yourself a mansion.
The slots we have listed are all progressives due to these type of pokies having the biggest jackpots on offer.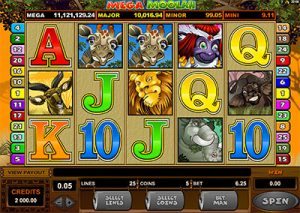 Mega Moolah: Mega Moolah is one of the most popular online progressives online and was even mentioned in one of the wins above. The African-themed slot machine scored its reputation from making quite a few players in the past instant millionaires. Created by Microgaming, the slot is available on both the instant play platform, which can be accessed on your desktop, laptop, tablet and smartphone; or via the downloadable software Microgaming casinos offer which can only be accessed via Windows computers and laptops. Additionally, there are three other jackpots to be won along with the Mega jackpot, which are known as the Major, Minor and Mini jackpots.
Hall of Gods: Another iconic progressive, but this one is from Net Entertainment. Hall of Gods is a Norse mythology-themed video progressive with 5-reels and a 20 payline format. This one has three jackpots including the Mega, as well as the middle-range jackpot known as the Midi, and a small jackpot known as the Mini. You generally want to land the Mega jackpot to win the big dollars and to do so you need to have all 20 paylines activated. Once you are in the bonus round you then have to use Thor's iconic hammers to match three jackpot symbols. The Mega jackpot winnings has an average total of €5,610,689 but it has only ever been won nine times.
Arabian Nights: We mentioned Arabian Nights above in one of the wins, but we wanted to mention it again since it was Guts online casino's first millionaire win by a player. The Arabian-themed video progressive has the usual 5-reels but only 10 paylines. Developed by Net Entertainment, there are free spins and multipliers but it only has the one jackpot, unlike the aforementioned. Still it generally goes off with a total of anywhere from €800,000 to €5,000,000.
Not sure if online pokies are for you? We discuss some of the advantages of online play here.
Best online casinos to win on the pokies
We have found some of the best Internet casinos to try your luck at in order to win big. Each have an array of progressives and standard video slots, which also can offer nice payouts. At least one of the above progressives can be found at all the online casinos recommended in our casino table at the top of this page, with each site offering some great welcome bonuses for new players. For some game inspiration, check out these lucky online slot games.