A friend called me up one night and asked for my opinion on real money online pokies – are they any good, are they addictive and what are the chances you'll actually make money? He was a keen gambler and he had a hard-on for making some fast cash. I also knew he wasn't afraid to lose his set limit, which made him a very entertaining punter to be around.
So I explained to him the benefits of gambling online in comparison to traditional offline gambling, and noted that if pokies is your game, you are far better off playing the slots online than you are within the walls of a land-based casino. Why? I ran through a couple of notable advantages of Internet-based pokies games, which I've detailed below.
Best online pokies sites
Casino
Bonus
Games
Pokies
Signup
The variety and quality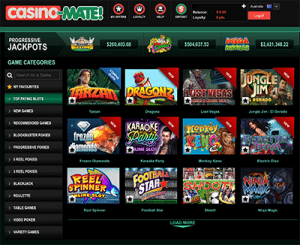 While you'll walk passed hundreds of different slot machines at your local casino or pub, they can all appear to be more or less the same, without too many distinct features from one another. Take a browse through any online casino we endorse here at PokiesSite.com and you'll notice that each and every slot title is unique from the other, with games based on movies, comic heroes and villains, TV series, and fresh titles with their own exclusive themes.
Then I told him to take a look at the quality of the games – you don't even need to sign up, just head to a reputable and licensed gambling website such as those recommended in the casino table above, and you can trial the titles for free in practice mode.
The online and mobile gaming software companies which design these games utilise the latest and most advanced technology to build slots (and other casino titles). The games are graphically-advanced, rich in audio and visuals, interactive, and host innovative qualities such as first-person shooter mode gameplay, falling blocks, expanding and soaring wilds, scatter symbols, bonus, gamble and 3D features, progressive jackpots, quirky bonus games, and also display actual video footage from films and TV shows. And that's just scratching the surface.
The Aliens video slot game, one of our favourite titles here at PokiesSite.com, and based on James Cameron's blockbuster sequel to the original Alien movie, takes the player on a three-level journey shooting and throwing grenades through the Alien infested planet, in an attempt to reach the Queen Hive.
With such an involved story line, starting at The Search, then moving to The Encounter and then finally The Hive, it is more reflective of a advanced console video game than a pokies game, but with the added benefit of being able to win genuine cash. Aliens is just one of many online pokies based on popular movies.
Much better payout rates (lower house edge)
Within Australian land-based casino venues, the pokies theoretical payout rate can range from anywhere from 85 to 90 per cent – it typically does not get higher than 90. The payout percentage rate (also referred to as the return to player of RTP) is the theoretical amount which that specific machine will pay back to its players over a certain amount of time.
For example, it can be calculated that a machine with a rate of 90 per cent which costs $1 per spin to play, will return an average of $900,000 to its players over the course of 1,000,000 spins (even though the players have put in a total of $1,000,000. The house (casino) will keep the rest of the money.
So what about online slot machines? Each site we recommend is required by law to display their pokies payout rates, and there is no site which boasts games which fall under the 94 per cent rate. This means online pokies games payout far more frequently than offline machines, and players will generally win more money playing on the Internet.
What about gambling addictions?
In terms of quality and value for money, you're better suited to play online pokies. But my mate also asked me about the issue of gambling addiction and how gambling can go against religious beliefs. I explained to him that unfortunately, many players fall in to a downward spiral when it comes to gambling, losing a bit of cash at first, and then continuing to chase those loses until they've lost everything. And I mentioned we can't blame these people entirely, as gambling inherently has many addictive qualities.
But if you set yourself limits (both time and amount), and you do not compromise those limits, you'll be far better off in the long run. In moderation, gambling can be a highly enjoyable experience; it should not be viewed as a means to make a consistent income, nor should it be viewed as the devil's game. It is meant to be a fun activity which players of the legal age can enjoy. If you maintain this outlook, you're already off to a winning start.
Before we ended our chat, I had to let him in on a great story I had recently heard about. A 32-year-old father was enjoying some casual time playing the Game of Thrones pokies game at Jackpot City Casino, and after about 30 minutes, took a break to grab a bite to eat.
However, he'd forgot to log out, and unbeknownst to him, his six-year-old son jumped on his computer and starting eating through his cash – the reels were spinning, fire was burning, characters were jumping out of the screen. He was having a ball, even though he didn't realise the consequences of his actions.
When his father returned, the son had won a cool $4870. While we would never endorse underage gambling, it just so happened that on this occasion, breaking the law had a happy ending which included a trip to Thailand, too.
This is just one of many crazy stories of players who won big playing online pokies.