Whether playing online or in a land based venue, the premise of the pokies is essentially the same. Players place a bet in order to spin the reels on the screen in hopes that they'll land a winning combination of symbols over an active payline. Look a little closer and there are some pretty big differences between online and land based pokies, with online players generally coming out on top.
This article will take you through the major differences and explain how online play provides more advantages for Australian players.
Best real money online pokies sites
Casino
Bonus
Games
Pokies
Signup
House edge and payouts differences
Aside from the convenience and game variety when playing online pokies, Internet slots come with the benefit of lower house edges and higher payouts than land based machines. In Australia, land based pokie machines have an average RTP (return to player) of around 90.89%, and in Queensland the mandatory return rate is as low as 85%. The RTP for online pokies varies between each game and each game developer, but with online slots the return rate sits much higher at around the 95% mark, which is an improvement of up to 10% in some cases.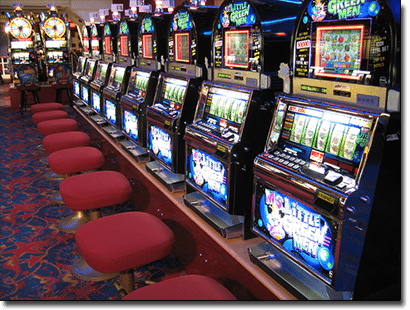 On top of higher returns, online players are also privy to higher jackpots. The maximum jackpot able to be won on a land based pokie machine in Australia is $10,000, but online this figure can go well into the millions. For example, Microgaming's Mega Moolah progressive jackpot pokies game has a base jackpot of one million dollars, with the highest amount ever won was more AUD $20 million from a single spin. While Mega Moolah is one of the highest paying online pokies, it's not unusual for Internet slots to have jackpots well into the tens or hundreds of thousands.
The reason for such a difference in house edge and payouts is that online vendors have much lower operating costs than land based vendors, which ultimately works in favour of online players. Combine that with the fact that playing online saves you money on transport, drinks or parking costs when playing at a land based casino and it's easy to see that online players are better off.
Interactivity and visual effects compared
Land based pokies machines are limited in what they can offer players in terms of bonus games and special features, but they do come with the glitzy bells and whistles like flashing lights and loud celebratory sounds that carry a lot of appeal for many players. While online games can't compete with this flamboyant showiness, they more than make up for it with the level of high quality computer graphics and 3D animation used.
Online pokies are becoming more aligned with what you'd expect from a video console game than a pub fruity machine, using all kinds of special effects including stereoscopic 3D and even full virtual reality through the use of wearable devices like Oculus Rift. Online games also offer a level of interactivity that you won't find in real life machines, with bonus games extending far beyond the usual gamble feature and into level-up games, jackpot wheels and arcade style mini games.
Game variety
A stand out comparison between Internet pokies and land based slot machines is the sheer volume of game variety that you'll find exclusively on the Web. When playing in real life, players are limited to whatever games are offered in the pub or casino they're playing in, with gaming floors usually consisting of multiples of the same machines. Playing online opens the doors to literally hundreds of different slot games, with sites like SlotsMillion.com offering over 1030 pokies in the one place alone.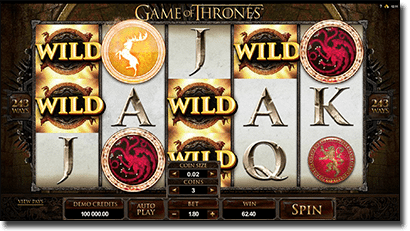 Playing online allows users to choose games that suit their personal preferences, from three reel slots, five reel slots, progressive jackpot games, 3D games, 243/1024 way games or just plain classic slots.
Online game developers can be much more innovative in their creations, with lower operating costs giving them room to experiment more with different game themes and unique features. The computerised nature of online play has also allowed gaming developers to form partnerships with unlikely studios, with blockbuster movies like Jurassic Park, Aliens, Bridesmaids, Terminator II and Tomb Raider being turned into popular pokies.
Difference in betting limitations
Online pokies players have much greater room to move when it comes to minimum and maximum wagering requirements. In Australia, land based pokie machines come with a restriction of a maximum of $1 per spin, but online there's much more leniency. Online pokies can be played from as little as one cent per spin, all the way up to hundreds of dollars per spin. Players on the Internet can choose games that are more suited to their financial requirements, from the recreational players to the high rollers.
If you're familiar with land based slot machines, follow our links to head to one of the leading online casinos and give virtual pokies a spin to see for yourself how the two differ.