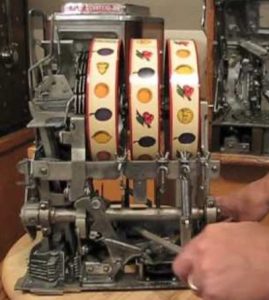 The rapidly advancing technological world has also resulted in a renewed interest in the older, simpler things in life. From vintage home wares to artisan products, the hipster movement has put a spotlight on retaining the value of items from yesteryear. This sparked interest in vintage and retro products has seen a huge push towards restoring and reupholstering older items and poker machines aren't exempt.
Restoring old gaming machines is now a hugely popular movement, with professionally restored slot machines, arcade games and pinball machines now becoming highly sought after items for collectors and those looking to furnish their house with unique wares.
If you've ever seen popular reality shows like American Restoration, Pawn Stars or American Pickers you'll know just how passionate some people can be about their old gaming machines and how much value these items hold when properly restored. Tipping the hat to a nostalgic Vegas era, we take a look at how old pokie machines are restored.
How much are old slot machines worth?
This question is kind of like asking how long is a piece of string, with values ranging from basically worthless to the ridiculously expensive. As with any vintage or antique items, the value is completely dependent on the condition of the machine and the history behind it. An original liberty bell machine from prohibition era USA is going to be worth truck loads more than an old 1990's pokie from a suburban Aussie pub, but if you find the right collector the sky's the limit.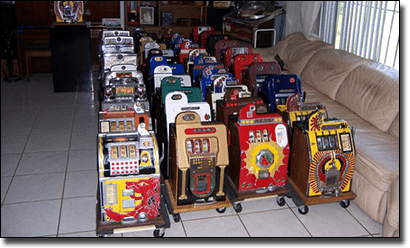 Pokies originated in San Francisco, but a huge earthquake in 1906 destroyed many of the rarest machines, so if you happen to have one of these bad boys lying around you could be sitting on a good chunk of change.
The value of old slot machines is highly dependent on how many of the original parts it has and whether or not the machine is in working condition, and if you're trying to sell an antique pokies machine these factors will influence the value:
The aesthetic appearance of the machine
The condition of the machine
How many original parts the machine has
Whether the machine comes with any replacement parts
Details about the manufacturer
The serial number of the machine
A certificate of authenticity
The most valuable pokies come from manufacturers like Mills, Jennings and Watling. The antique slot machine business is big in America, and owners can subscribe to certain databases for accurate postings about the selling value of old slot machines across eBay and auction houses to get an accurate idea of a machines worth.
How to restore old pokie machines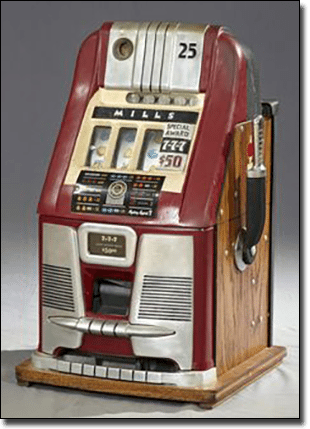 Unless you're a qualified or experienced tradesperson, you'd be well advised not to touch a thing on an old slot machine unless you know exactly what you're doing. While you can use the Internet to buy old parts and even follow YouTube tutorials explaining how to fix them, tinkering with the wrong mechanism could have a detrimental impact on the machines value.
If you live in the USA, there are countless numbers of restorers who specialise specifically in restoring old slot machines and it'll certainly be worth your dollars to have it treated in the hands of a professional. Residents of other countries may have to look a bit harder to find a reliable pokies restoration company, but as with everything else in life, Google will be your best bet.
Things to consider when buying an old slot machine
If you're a budding collector or simply in the market for a unique novelty for your home or business, exercise caution when purchasing a restored pokies machine. If you're simply looking for ornamental value, the condition or patina of the machine isn't important, so what you spend is entirely up to you.
However, if you're looking for a machine in working order or one that will increase in value, the most important thing to consider is the guts of the machine. Many modern restorers have replaced antique mechanisms with electrical rewiring, significantly decreasing the value, not the mention the historical charm of a machine.
If you're buying as a collector, one of the big appeals for owning old slot machines is the nostalgia for a way-back era , so the more history a machine has about where it came from and who previously owned it, the more sought after and valuable it will be.
Have online pokies made slot machines irrelevant?
The rise of online casinos has certainly meant less people are rushing out to try the latest electronic poker machine, but that doesn't mean the physical machines aren't still in high demand. Leading pokie machine developers like Aristocrat are constantly coming up with new creations, and land based casinos and pubs are still (and probably always will be) packed with the machines. If anything, the widespread use of online pokies only increases the value of these old, restored slot machines.
If you're keen to see what online pokies are all about, read our guide to playing real money slots on the Web to learn more about this advanced new game format.