Just as the Apple iPhone has advanced over time, so have slot machines, but just because there are modern versions available doesn't mean the classics aren't still fun. The first iPhone offers a simple version of what we see today, as does the 3-reel poker machine. Therefore, our team have decided to take a look at the history of 3-reel pokies, how to play them, and the advantages they offer over their more advanced counterparts.
Best online pokies sites
Casino
Bonus
Games
Pokies
Signup
History of 3-reel slot machines
By looking at the history of 3-reel gaming machines, we are basically going back to the roots of when the slots where invented.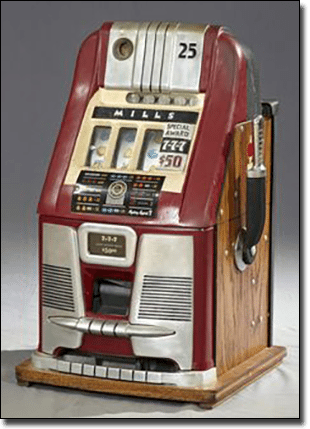 The first ever poker machine was said to be created by Charles Fey in 1895. It's also said that Sittman and Pitt, a pair of Brooklyn manufactures, invented the first slot machine, but since it featured 5-reels it wasn't as well received at the time as the 3-reel slot machine was; therefore, Fey is considered to be original inventor.
Fey was a car mechanic in San Francisco and created these machines with three spinning reels, featuring Diamond, Heart, and Spade symbols as well as the Liberty Bell, which is where it coined its name from. Landing three Liberty Bells saw a payout of 10 nickels which is about 50 cents.
Interestingly, it worked via three metal hoops which were inside the gaming machine and these were called reels (while reels do not have this set up today, especially online, the term is still used). Each reel had the symbols painted on them and a lever, which was attached to the metal hoops, would spin the reels once pulled. If the reels stopped with three of the same symbols then the player would win the jackpot.
These were so popular that demand overtook supply, even with Fey's home state banning the machines for some time. There are many theories that big manufacturers approached Fey to buy his machine off him, but he refused, thus copies were made. Others state that Fey was never approached, rather others just created their own version.
Regardless, Herbert Mills, a Chicago manufacturer, created his own version in 1907 called the Operator Bell. Mills can actually be attributed as the man who created the 'Fruit Machine' as he placed fruit symbols on his version. This resulted in more and more 'Bell-type' machines popping up everywhere, such as pubs, saloons, bowling alleys and more, and every single one featured 3-reels.
Fruit Machines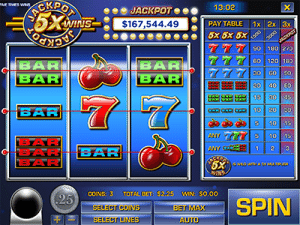 While Mills added the fruit symbols to his Operator Bell machine, it wasn't until 1912 when the Bell-Fruit Gum Company introduced their gaming machines titled 'Fruit Machines' that the term was truly adopted. Fruit symbols, such as lemons, cherries, and more, along with a BAR symbol, which was the original logo of this company lined the 3 reels. Instead of money, due to legislation, or even drinks, which earlier poker machines would offer, these machines would pay out fruit-flavoured gum.
The slots kept advancing despite legislation attempting to eradicate them and have advanced to the pokies we see today, both at land-based and online casinos.
Additionally, while 3-reels are considered classics, these too have advanced to be modern day versions of the original Liberty Bell, which can actually be viewed at a museum in Nevada.
About 3-reel pokies
Poker machines with 3-reels are the simplest and easiest forms of slot machines. While the original 3-reel slots boomed with just one winning payline, the classic has adapted to compete with 5-reel slots and thus now can offer more than a single winning payline (some have up to nine winning paylines).
Since they are so simple, they do not have video intros or additional never before seen bonus rounds, so they don't suit everyone. Regardless of their simplistic nature, they remain quite popular and you can still find them in land-based venues as well as at reputable online casinos.
How to play 3-reel slots
These type of slots are suited to both the player who remembers these at land-based venues when they were the only type available, as well as those who are new or just want something simple.
All you have to do is decide how much you wish to bet per spin and then hit the button that spins the reels. That's all there is to it. Some may have features such as nudges, but they don't require Scatter or Wild symbols to be spun in order for players to win anything. Symbols may vary across software providers and at both online casinos and brick and mortar venues.
Benefits of playing 3-reel slot machines
While there are a large variety of pokies at casinos, including modern 5-reel versions featuring interesting and appealing features, 3-reel slots still have their benefits for players.
3-reel slots are easy to learn: 3-reel slots are so simple to play since there is no game structure where you have to collect a certain amount of symbols in order to make it to the next round. There are no back stories or special gaming opportunities, it is just simply spinning the reels and potentially winning.
No need for a feature to win big: A winning payline on a 3-reel slot generally pays more than it would on a 5-reel slot. This is because 5-reel slots rely on their feature rounds for big wins, whereas 3-reel slots only have winning paylines. Therefore winning paylines on 3-reel slots generally pay more than their 5-reel counterparts.
Winning big with smaller wagers: In order to win big, you generally need to be playing the maximum bet. With 3-reel slots the maximum bet is generally less than the maximum bet required for 5-reel slots. This means if your bankroll is quite small you can still reap the benefits as you are generally only required to wager a small maximum bet to win a substantial amount.
Best online 3-reel slots
While there are a number of 3-reel slots at land-based venues, we have found some of the best ones available to try online.
Break da Bank
Featuring 3-reels and 5 paylines, Break da Bank is a classic from one of the top leading software developers, Microgaming. It can be played at a minimum of one coin per payline right up to five coins per payline, making the maximum bet for all paylines enabled at 25 coins per spin. This translates to a minimum of $5 per payline and a maximum of $25 per payline, totalling a minimum of $25 per spin and a maximum of $125 bet per spin.
This 3-reel slot is a good option for those who want an insight into what the old machines were like as it features the BAR symbol that the Bell-Fruit Gum Company gaming machines had, all the while featuring a worthwhile payout of $60,000.
Super Nudge 6000
Net Entertainment has taken a classic slot machine and modified it to suit the modern player. With 3-reels and 5 paylines, Super Nudge 6000 has modern, high quality graphics, as well as a Nudge feature which some older, classic slots included.
Players start out by spinning the reels without a Nudge feature, but can activate nudges. A Nudge allows players to basically nudge the reels for new symbols to appear. This makes this slot a good option for those who want to try out the classics but still want a unique or intriguing additional feature to just the standard winning paylines.
Nudges are activated by playing the 'Max Bet', a button available to click on the game screen, and here you will receive free spins with a certain amount of nudges. The amount you receive will depend on how much you bet per spin. Winnings are bigger here, so it is a good idea to give the 'Max Bet' a go.