MegaSpin pokies see players spinning the reels of not just one, but up to nine pokies at once. This means you have up to nine chances of winning per spin and the best part is the RTP percentages aren't compromised on the MegaSpin titles available.
What are MegaSpin pokies?
MegaSpin games see multiple pokies in the one gameplay screen. They each have their own reels which spin independently of each pokie to ultimately give you more chances to win.
Some MegaSpin titles feature a set number of pokies which are all spun at once, while others allow players to pick how many they want to play, from one up to nine – there may be more, but we've only come across nine at the time of writing.
These pokies can either be 3 reel of 5 reel pokies, which means there can be up to 27 or 45 reels spinning at once, depending on the title.
Popular online MegaSpin pokies
Microgaming are responsible for these unique type of pokies, with many other providers leaving it to the top leading developer too.
You will find five options at our Microgaming online casinos, including RoyalVegasCasino.com, the premier casino for a Microgaming-only catalogue. Players can download the client if they have a PC with adequate storage space, or you can access the site via your browser – Safari, Chrome, Firefox, etc., are compatible – if you have a Mac or limited space.
However, only some titles are available on the Flash platform.
MegaSpin Break da Bank Again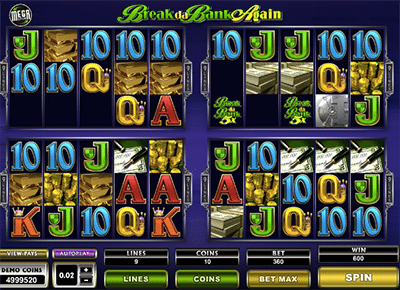 One of the most popular MegaSpin pokies is MegaSpin Break da Bank Again which is a variant of the Break da Bank Again pokie – a 5 reel, nine payline pokie with 25 free spins and 5x multiplier.
On the MegaSpins version players are offered four lots of the game, meaning you can win up to 25 free spins on each pokie and 100 in total. Each offer a max bet of 90 coins per spin, which is a total maximum of 360 coins per go.
This title is available on both the Flash site and the downloadable platform, so all players can have a spin. Additionally, the RTP for MegaSpin Break Da Bank Again is 95.75%.
MegaSpin Double Magic
This title is based on the Double Magic pokie which features 3 reels and one payline.
The MegaSpin Double Magic version offers up to nine of the 3 reel pokies in the one game and players can opt to spin four, six, or nine of these at once. This means you can have up to 27 reels spinning at once and nine paylines activated – with each independent of one another.
A maximum of 18 coins is available, with a chance to win up to 14,000 coins, when all games are activated. MegaSpin Double Magic is only available on the downloadable platform and features a RTP of 95.58%.
MegaSpin Fantastic 7s
Based on the Fantastic 7s pokie, players can spin, four six, or nine of the 3-reel title at the same time, each offering just one payline.
Featuring the same theme as we see in the original title – the lucky 7s – players can opt for up to 27 coins at once with a payout of 2500 coins if all 27 reels are activated. The RTP is 95.93%, and the title is only available via the downloadable client.
High 5 MegaSpin
This title is based on the pokie High 5, which features 3 reels and one payline. Similarly to MegaSpin Double Magic and MegaSpin Fantastic 7s, players can opt to play four, six or nine of the pokies at once.
If you choose to play all nine pokies you can win up 15,000 coins if you are playing the max bet of 27 coins – three coins per pokie. This title has the highest RTP at 97.43%, but it is only available by installing the Microgaming online casino to your PC.
MegaSpin Major Millions
Major Millions, the pokie this MegaSpin variant is based on, offers 3 reels (there's also a 5 reel one) and three paylines, plus a progressive jackpot.
The MegaSpin version also has a progressive jackpot attached and with six lots of the 3 reels in play at once, with the maximum of 18 coins required to win the jackpot.
You need to spin three Major Millions logos on the third payline of one of the six pokies to win, but this gives you six opportunities to win the progressive.
This one also has the lowest RTP out of the MegaSpin pokies at 89.37%, but this is due to the progressive attached. Additionally, you can only play it via the downloadable casino.
MegaSpin payouts
When you spin each pokie you have the chance to win on each one. The reels operate independently of one another meaning you can win on just one or all nine, if you have them activated.
Overall, these do cost more to play – the more pokies you have in play at once the more it will cost you – but the rewards are bigger than their original single play format.