With so many prepaid methods available to use, it can be easy to mistake that any will do when it comes to making deposits at pokies sites. However, that isn't the case as some aren't accepted, while others aren't as easy to use.
Online pokies sites with Paysafecard supported
Casino
Bonus
Games
Pokies
Signup
If you're looking for the best pre-paid option or e-Voucher, Paysafecard is your best bet. This trusted, global prepaid method is widely accepted at online casinos and is an easy option to fund your account anonymously. Additionally, there aren't any hidden fees and it is available in over 40 countries.
Can USA players use Paysafecard for online pokies?
Unfortunately, players residing in the United States are not able to purchase Paysafecard vouchers online. While there are retail outlets which sell Paysafecard vouchers in North America, it's rare to find an online casino with Paysafecard that accepts US players. Due to more restrictive laws on online gambling in the USA, we recommend a specific set of online casino payment methods, such as Bitcoin, Neteller and MasterCard and Visa when available.
What is a prepaid payment method?
For those of you who haven't caught on to this great deposit option yet, prepaid payment methods are basically like the prepaid phone credit we used to have before postpaid mobile plans came into play.
To fund your casino account with Paysafecard, you simply buy a card or a voucher from a retail outlet which has a unique PIN that you enter when paying for something online or funding your casino account. You simply load how much you wish to spend (there can be limits) and use the voucher information to pay. This way you do not have to enter any personal details, such as your name, credit or debit card number online. In fact, you don't even need a bank account or credit card to use Paysafecard, as these e-Vouchers can be paid for in real life using cash.
So while we have drummed it into you to play at reputable online casinos, such as the leading venues recommended here at PokiesSite.com, it can't hurt to use prepaid deposit methods if you're really hesitant about entering sensitive information online, and Paysafecard is one of the best.
About Paysafecard
The Skrill Group, which are known for their web wallet service, owns and operates Paysafecard. It has its own separate website to the Skrill web wallet and operates as an entirely seperate service.
Interestingly, the Skrill Group also acquired the Ukash e-Voucher brand in October 2015, which was another popular prepaid method for funding online casino accounts. Ukash now operates under the Paysafecard name, which is the market leader for safe, pre-paid e-Vouchers.
The premise behind Paysafecard is it is meant to act like you are paying with physical cash. It's quick, easy, and there are no personal details required to enter, or ultimately stored anywhere. It is a great option for those who cannot use their credit or debit cards at online casinos (or don't want to) or for those who feel more secure not entering personal information online.
How can I get Paysafecard?

To make the entire process a simple one, buying a Paysafecard is as easy as paying with it. You simply head to the Paysafecard website and type in your postcode to find your nearest outlet. Then you simply walk into the outlet, purchase the card with how much money you would like to load onto it, and use the 16 digit PIN to fund your account or make purchases.
The denominations available to be purchased include $10, $25, $50, or $75, with up to 10 cards available to be bought at one time (meaning maximum limit is $7500).
You can also buy Paysafecard online at their online shop by clicking here. You simply purchase the card (in Euros but you can use their currency convertor which we detail below) and the PIN is emailed to you. The denominations for online Paysafecard's are €10, €25, €50, and €100.
Find your location while you're out and about with the Paysafecard app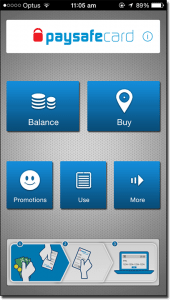 They also offer users an app that can be downloaded to your smartphone or tablet, such as an iPhone, iPad or Android device, or even to your Apple Watch, so you can use a site specific for portable devices to locate where your nearest Paysafecard outlet is.
Simply type in Paysafecard into your application store and download it to your device. Once you have downloaded it and opened it up, tap on the 'Buy' icon and either opt to 'Allow Paysafecard to access your location' or simply tap in your address to find the nearest location that you can purchase a Paysafecard if you don't use location services.
You can also check your balance of your card, read helpful information guides, and even access any promotions Paysafecard may be offering at the time.
You can still view your transactions with Paysafecard?
Unlike some other payment methods, you can login to Paysafecard's website or app by using the 16 digit PIN you are given to view the transactions you have made, as well as view your balance so you can see if you need to buy another one.
There's no fees included when buying the card, but after one year if there is still credit in your balance then it will charge a fee.
Step by step process of paying with Paysafecard
To explain the process efficiently, we have included a step-by-step guide to explain exactly how to use the payment method online.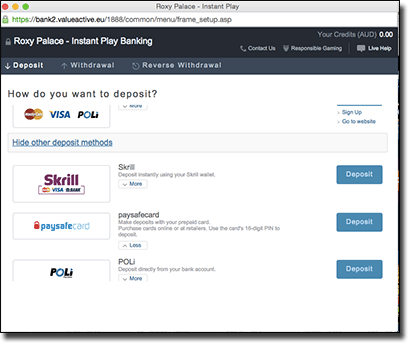 Sign up or login to the online casino (we have a list below that accept Paysafecard)
Click on the bank/cashier link to access the deposit page
Click 'deposit' next to the Paysafecard logo
Enter the amount you wish to deposit, ensuring you have enough on your Paysafecard and press 'next'
After confirming again you will be taken to the Paysafecard interface within the casino's banking page
Enter the 16 digit PIN (you can click on 'Enter additional PINS' if you have more than one card and want to deposit a larger amount in one go)
Check the box to indicate you agree to the terms and conditions (always read these before checking)
Press pay and your funds will be processed instantaneously provided the information was correct and you have enough on your card
Paysafecard currency converter
If you are playing at an online casino which doesn't accept your currency, such as AUD, you can use Paysafecard's currency convertor on their website. This is especially handy before making a deposit because if you are playing in Euros, AUD isn't equal and your payment might be rejected as you don't have enough. This can cause confusion since you may think you have $10 on your Paysafecard, but if you are playing in Euros you need $AUD 14.70, so you won't have enough.
Thankfully, all of our recommended casinos accept the Australian dollar, so stick with the sites endorsed at PokiesSite.com and you won't encounter any problems.
For our international readers, you will be happy to know Paysafecard is supported in over 45 countries, including Belgium, Brazil, Canada, Denmark, France, Germany, Italy, Kuwait, Lithuania, Malta, Mexico, Netherlands, New Zealand, Romania, United Arab Emirates and the United Kingdom.
What if Paysafecard isn't accepted?
If you have gone out and purchased a Paysafecard only to find out that it isn't accepted at your chosen pokies site, there is a way you can still use it.
YUNA card: The YUNA card is a prepaid MasterCard available from Paysafecard that can be topped up by your Paysafecard. You can get a physical card so you can use it at land based venues, or you can get a virtual card if you plan to only use it online.
Any online casino which accepts MasterCard will accept this card: you simply fill out the details as you would a debit or credit card using the information on your YUNA card to fund your account.
What online casinos accept Paysafecard?
There are a number of online casinos we play at due to their trustworthy nature and proven track record of offering fair and regular payouts on their pokies, which accept Paysafecard as a deposit method. All of the sites listed in the table at the top of this page have PaySafeCard at the time of writing, with all sites geo-targeted to your location so the table only displays the best options currently accepting and catering to players from your country.
Each of these casinos are highly reputable, and offer hundreds of pokies for instant-play directly over your web browser. All deposits are protected using a minimum of 128 Bit SSL (Secure Socket Layer) digital encryption security, coupled with the stringent security offered by Paysafecard, and you can make real money deposit without concern for your safety.
Can I make a withdrawal with Paysafecard?
Unfortunately, since Paysafecard is an anonymous, prepaid method, you cannot use it to make withdrawals. This means you will still need to hand over some form of personal financial information in order to withdraw your winnings, with web wallets making a good, secure option for those who don't want to use a credit card or bank account. Check out our other options for making secure withdrawals here.
To fund your online pokies account using Paysafecard, we recommend Slots Million, with over 1200+ pokies available for instant-play.