Free play is convenient for players who want to trial a game without making a deposit, but for those who never transition to real money gameplay, you tend to miss out on what real money titles have to offer.
If you plan to play the pokies, free play mode is a good way to figure out the best titles to play with real money, but if you stick to this mode you will find a lot of drawbacks. We take a look at these disadvantages and why you should make the transition to real money pokies.
Pokies sites
Casino
Bonus
Games
Pokies
Signup
What is free play on the pokies?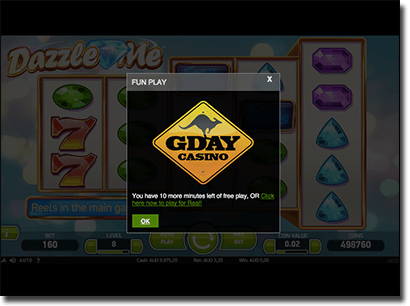 All of our recommended online casinos offer players the chance to try out their pokies in free play mode. This sees players, signed up or not, receiving a play money balance that is usually quite large to use on the slot machine. This is so players can try the pokies out before they play with real money, to see if they like them.
However, some players don't make the transition from practice play to real money mode which seems quite silly since they have come to an online casino in the first place. So if you are one of these players, read below to find out why free play mode isn't as good a real money mode when playing the pokies.
Free play isn't as thrilling
This is our number one reason for playing with real money. Winning in free play mode can be fun, but it really doesn't make an actual difference because our bankroll wasn't ours to begin with.
Putting our own money through and earning a win can be both exciting and satisfying. Sure, losing is always worse, but that just adds to the thrill. If you play sensibly, and only play money you can afford to lose, it is incredibly fun and thrilling when you win.
You can't play the progressive slots in free play mode
Progressive slots grow due to players contributing a percentage of their wager to the prize pool every time they spin the reels. Since progressives require this percentage online operators and software developers can't offer free play mode for most progressive titles.
This means you miss out on trying them, though we wouldn't recommend playing in free play mode regardless as potentially winning the massive jackpot on offer is worth the coin.
But the jackpot aside, many of these slots also offer unique gameplay and fun bonus features that you will miss out on just by sticking to free play mode.
You won't be eligible for promotions
One of the best aspects to playing online is that online casino offer generous bonuses and promotions, with many specific to pokies. While some do offer free spins just for signing up, this is the extent of the promotions you will be eligible for if you stick to free play mode.
While many do have wagering requirements attached these can be easily fulfilled by playing the pokies and you can then release the bonus as cash.
Additionally, some online casinos offer free spins just for making a deposit, with no wagering requirements attached and even offer entries into huge prize draws featuring trips, travel vouchers, and even the latest gadgets such as Apple devices.
You miss out on all of this if you stick to practice play.
You can't earn loyalty points
Loyalty points are quite easy to earn when playing real money pokies at our favourite casinos, but if you play in free play mode you can't earn these points.
While loyalty points may seem insignificant you can actually earn some great rewards once you start accruing your points including cash rewards, birthday gifts, free spins, and more.
Every time you play the pokies, you could be earning a lot of loyalty points if you opt for real money mode.
Spinning the reels can become tedious in free play mode
Free play mode means you don't really get a reward even when you do win so spinning the reels over and over again can become quite tedious and boring.
If you are after a free play game, Angry Birds will probably suit you better, but if you want to be entertained all the while having the chance to win real cash pokies in real money mode is the better option.
You can be locked out after a certain amount of time
Some online casinos only allow players to play the pokies in free play mode for a certain period of time before they they lock you out. This means you don't get to experience the slot for very long, and could see you missing out on triggering the special bonus features the slot includes just by opting only for the free play mode.
Play the pokies with real money
While we aren't completely slamming the idea of free play pokies, it is quite obvious that we think playing the slots in real money is a lot more thrilling and entertaining than in practice mode, and offers more benefits in terms of rewards and promotions.
However, we do recommend trialling an array of slots in practice play before you convert to real money so you can figure out what features you do prefer on a slot machine, such as ways to win, paylines, free spins, etc., and so you can get the hang of how to play.