With so many pokies available online, providers attempt to attract players by adding unique features and bonuses to their titles. However, some end up being quite gimmicky and are best left to free play mode. We take a look at some of these titles and the ploys the providers have used on them to draw players in – plus why some work and why some don't.
Sterling Silver 3D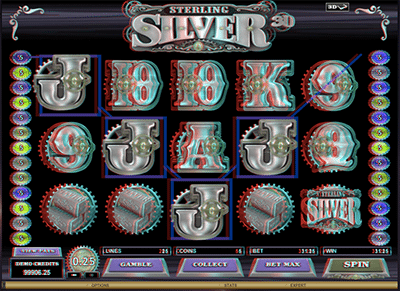 Sterling Silver 3D is a good pokie in terms of gameplay – the features such as the free spins and multipliers are great – but the gimmick Microgaming have unfortunately gone with here is the need for 3D glasses to utilise the title.
Microgaming jumped on the 3D bandwagon when many of the other providers did but instead of utilising 3D animated graphics they went with the true stereoscopic 3D technology which needs special glasses to be experienced.
Not many people have these glasses lying around, unless you 'accidentally' took them from the cinema or you purchased a 3D television, and therefore not all players can enjoy the graphics.
You can tell from the get go this gimmick doesn't work if you don't have the glasses, and you can revert back to 2D gameplay but this just defeats the point of the title.
Major Millions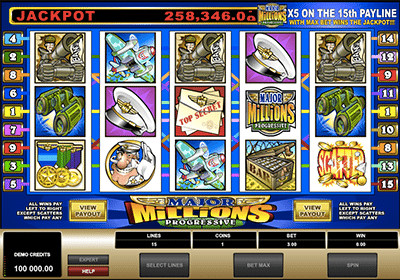 We are huge fans of the progressives by Microgaming, including Mega Moolah as it gets up to the eight figure mark. However, some of their progressives have very poor RTP percentages attached despite having huge prize pools which draw players in.
Major Millions is one of their smaller progressives, with the jackpot starting at $250,000, which can be triggered by spinning five Wilds on the 15 payline.
The biggest problem with this progressive is it is a fixed coin title, meaning you have to play the maximum number of coins (three) to even have a chance of winning the jackpot which is $3 per spin. It seems since the RTP is 89.37% (incredibly low for an online pokie) this fixed coin size is a gimmick and won't score you a good enough return, which many oversee due to the jackpot attached.
Since the prize pool is smaller than other progressives on offer it might be best to opt for another progressive by Microgaming or even NetEnt.
At the Copa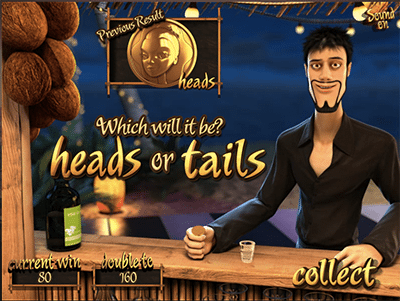 BetSoft are famous for their stunning graphics and we love the features they have to offer on all their pokies. While they tend to include the Gamble feature they usually dress it up as an extra feature to their titles, for example advertising they have three features when they really have two plus the Gamble option which ties into the theme.
Sometimes this can work and even be quite fun, but At The Copa simply offers a man flipping a coin and players choose Heads or Tails. It doesn't really tie into the theme of being at a Copacabana with dancing men and women, or even appear as an extra and unique feature which BetSoft regularly try to portray.
It Came From Venus by BetSoft offer a great example of a good Gamble Feature revamp.
Wonder Woman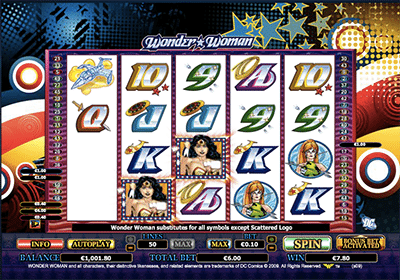 NYX Gaming have taken over Cryptologic but many of the Marvel comic pokies are still available and haven't been overhauled. While all titles available have the gimmicky feature known as the 'Bonus Bet', Wonder Woman has the least amount of free spins and bonus features, which means the Bonus Bet isn't really worth it here as it it on the other titles.
The Bonus Bet feature sees players paying 10 extra coins for it to be activated and this needs to be enabled in order to have any chance at triggering the bonus features. This means you can't really play the minimum bet advertised if you want a chance at the free spins.
Other titles have this feature and it needs to be enabled, but their bonus rounds can be considered worth the extra 10 coins. For example, The Green Lantern sees 24 free spins awarded instead of the eight in Wonder Woman.
Jurassic Park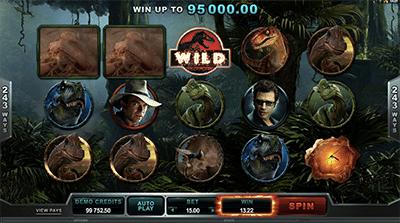 Jurassic Park is an incredible pokie by Microgaming, but there's just one gimmick to the title which we have a problem with – the T-Rex Alert Mode.
At first it seems like a great feature: it is randomly triggered and up to 35 Wilds are added to the reels for six spins. But once it is triggered you realise the six spins aren't free and instead the feature is available only if you continue to play with real money wagers. What's more, it is very unlikely you will receive more than two or three extra Wilds – we never have.
If you try to reduce the amount of your bet, you will reduce the amount you can win too and while Wild wins are very much welcomed, this feature seems a little bit like a ploy to us.
Where to play gimmick-free pokies
While there are many gimmicky features out there, there's also an array of titles with rewarding bonuses including generous amounts of free spins with multipliers where you are guaranteed a win, special Wilds, Free Re-Spins, and much more.
You can find these features by using the handy search filter SlotsMillion.com has to offer, which will sort through the 1000+ pokies catalogue. We've also recommended some of the luckiest online pokies.
To avoid the gimmicky ones, in accordance to your personal preference, simply view the game's paytable before playing real money wagers to know what you're getting yourself into.