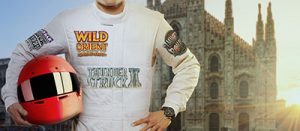 32Red Casino's latest promotion for the month of September is one not to be missed – four races, four weeks and 400 winners.
The promotion runs from Thursday the 1st of September to Tuesday the 27th of September.
Opt in to this promotion via the 32 Red Casino promo page and you will be eligible to partake in each of the four weekly races.
Once you have opted in, start playing any of the 32 Red Casino games (for real money) to earn as many loyalty points as you can, and work your way up the leader board.
The races (the four time periods to earn your points) take place over the following dates:
Week 1: The Italy Practice, from September the 1st to September the 6th
Week 2: The Singapore Qualifier, from September the 8th to September the 13th
Week 3: The Malaysia Qualifier, from September the 15th to September the 20th
Week 4: The Podium Final, from September the 22nd to September the 27th
The top 100 qualifiers for each of the first three races are awarded the following cash prizes:
1st: £800
2nd: £500
3rd: £300
4th: £150
5th: £120
6th – 10th: £100
11th – 19th: £50
20th – 35th: £30
36th – 50th: £20
51th – 81st: £10
82nd – 100th: £5
And the top ten finishers for the Italy practice run, the Singapore and Malaysia Qualifiers will earn double the loyalty points for the contribution towards the Podium Finale race.
The top 100 placed finishers for the Podium Finale race will share in £20,000 in bonus prize money, according to the following prize structure:
1st: £5,000
2nd: £3,000
3rd: £2,000
4th: £1,000
5th: £800
6th: £700
7th: £600
8th – 9th: £500
10th – 12th: £400
13th – 16th: £300
22st – 29th: £100
30th – 39th: £50
40th – 62nd: £30
63th – 75th: £20
76th – 100th: £10
All cash bonuses will be credited to the winners' accounts before 5PM U.K. time each Wednesday after the conclusion of the races. Make sure to check out the promo's terms and conditions to confirm all details.
Players using currencies other than pounds (GBP) will have their loyalty points converted to the GBP equivalent, for leader board purposes. These players will receive the equivalent bonus amount in their account's currency.
The leader board is also available to see via the the promotion page – refreshing every 15 minutes to reflect the constantly shifting race positions.
Ruby Replay: Along with the £32,000 Casino Grand Prix promo, throughout the month of September, players can earn double loyalty points on specified Ruby Replay games.
Simply opt in to the promotion via the 32 Red Casino promo page, log in to your account and check back each day to see which games are offering all players double the points value when they play real money games. Try your luck on some of the biggest progressive jackpot games such as Mega Moolah, offering an $11 million prize pool this week.