DESPITE claims that it would make life harder for counterfeiters, it seems the new Australian five dollar note is causing major problems across the country – including with electronic poker machines.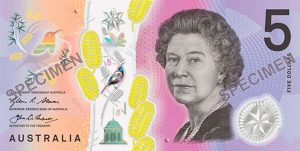 170 million new notes were released into circulation by the Reserve Bank on September 1, with claims now surfacing that vending machines, self serve checkouts and gambling machines are chewing up and spitting out the notes.
The dilemma has cause supermarket giant Woolworths to upgrade its self serve checkouts, with the machines rejecting the notes due to the transparent strip which runs through the centre of the bill.
Vending machine operators have also been forced to retrofit 100,000 machines across the country which were failing to recognise the note.
"The note reader starts to read the note and sees the clear strip, it identifies that as the end of the note and of course it can't recognise it, so it spits it back out," Nick Aronis, National Vending Association president told Fairfax.
Bruce Davey, Your Choice Vending owner, told Fairfax Media he would have to spend around $18,000 to buy new note readers for 40 of his 550 machines.
Gambling machines have not avoided the drama, with several pokies rejecting the note, whilst the TAB has posted notices on its devices asking punters to swap their notes for vouchers, with the company expected to upgrade its machines by the end of the year.
The National Vending Association's Phillip Barry said he had raised the issue with the National Reserve Bank, whilst he said his association had also asked them to release multiple new notes at once so machine owners would not have to cop the expenses of updating their machines multiple times.
Also being reported are incidents of machines crumpling the notes as they struggle with the strip.
"I personally believe it's a design flaw, that clear section should have been across the top," Barry said.
"We did bring that up with the Reserve Bank but they decided to do it anyway."
The other Australian notes are also set for a revamp, with the next one to be upgraded with new security features set to be the $10 note next year.