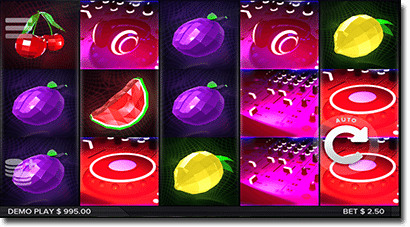 If you're more likely to fork out money to attend Stereosonics or Future Music Festival over Coachella or Splendour in the Grass, or spend your Saturday nights busting moves in a huge night club rather than playing pool in a local pub, DJ Wild is the online pokies game for you. This game from Elk Studios is aimed at lovers of EDM (electronic dance music), providing a party-like atmosphere with pumping beats as you spin the reels to flashing strobe lights and cheering crowds.
Elk Studios is a young game development company running out of Sweden, and DJ Wild embodies everything this brand is aiming to do in terms of creating fresh content for a younger audience. It's a five reel, three row, 10 payline video pokies game which uses a Win Both Ways format, with a fully customisable bet table. There are 12 bet levels to choose from, ranging from $0.25 to $100.00, with each bet worth 100 coins. The theoretical RTP is 96.3% and the game come with a jackpot of 170,000 coins.
Game design & theme
DJ Wild sets the scene from the moment the game loads up – using real video footage, you assume the role of an internationally acclaimed DJ as you fly into Miami living the high life, and watch as an epic stadium fills up with fans. The champagne pops before you head out to hit the decks, taking control of the beats as the entire stadium comes to life. This is where the game kicks in and you're taken to the reels, which use classic fruit machine symbols mixed with DJ gear.
You'll notice immediately Elk's way of doing things is a little different. Betting options aren't listed at the bottom of the reels, instead you need to click on the coin symbol icon which hides in the bottom left hand corner of the reels and then select your desired bet. To place your spin, go back to the reels and click the round arrow symbol. There's also an auto-spin option, just hold down the spin button to activate this.
One of the ground-breaking things Elk Studios accomplished here is they had one of Stockholm's most well-known DJ's create the soundtrack, a dance album called Fantasize, which makes this a genuine EDM experience for music fans.
DJ Wild symbols
In DJ Wild, symbols are made to look like something you'd see on a floor to ceiling screen in one of the world's biggest nightclubs. Electronic cherries, lemons, melons and plums are of the lowest value, sharing the stage with DJ decks, synthesisers, mixing equipment and headphones (which are listed here in order of value highest to lowest). Wins are paid both ways across the reels, in succession from leftmost to right and rightmost to left.
When a winning combination lands, the symbols pump in time with the music and strobe lights flash across the screen, turning the winning symbols into different colours.
Bonus features in DJ Wild
With no scatter symbol or mini bonus games, the bonus features in this game really come down to the wild symbols (perhaps the motivation behind the fitting name of DJ Wild).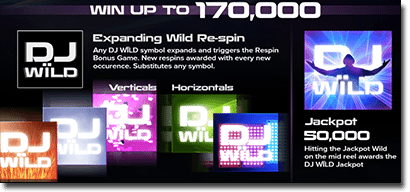 The wild symbol is the DJ Wild icon which substitutes any other symbol to form a winning combination, and an appearance of this on reels one, two, four or five will turn into an expanding wild, expanding across the reels either horizontally or vertically. After expanding, it will trigger one free re-spin, with more wilds added to the reels to create the chance of even bigger wins. No wilds appear on reel three.
The DJ Wild symbol can also be randomly replaced by a smoke, fire, confetti, strobe or laser wild symbol. Smoke, fire and confetti wilds expand vertically to cover three symbols, while strobe and laser wilds expand horizontally to cover two symbols.
The games jackpot is struck when reels one, two, four and five are covered with wilds, in which case the Jackpot Wild symbol appears on reel three on the final re-spin, awarding a $50,000 jackpot.
Elk Studios Betting Strategies feature
When customising your bet, you'll notice there's the option to activate a Betting Strategy. This is a unique feature created by Elk Studios and you'll find it in their other games, like Taco Brother, The Lab and Electric Sam. Betting Strategies allow you to place an additional wager on top of your standard bet, with these options:
Optimiser – automatically bets a pre-determined % of your balance.
Leveller – raises your bet level by two after five consecutive losses.
Booster – raises your bet one level after a loss.
These Betting Strategies can be quite confusing, so make sure you understand them fully before activating them or you could be out of pocket before you know it. You can find out more about each strategy in the betting table in DJ Wild.
Our verdict on DJ Wild pokies
Dance music lovers will get a huge kick out of this game, as it truly is the only pokies of its kind you'll find at an online casino and provides a genuine electro dance music experience. However, those who aren't fans of techno beats and strobe lights won't find much appeal to this game, as the soundtrack, symbols and designs are created for a particular audience, so it's really a matter of personal taste.
Regardless, DJ Wild is worth trying just to see what the up-and-coming developers at Elk Studios are up to, and to give unique features like Betting Strategies a go.