It's no exaggeration that when it comes to online pokies there are literally hundreds of games to choose from. If you're new to the world of online gambling it can almost be overwhelming, with so many different titles and themes at your disposal. Virtual slots range from the basic, old-school fruit machine style, to complex 3D games using animation of cinematic quality. Your preference of gaming style will come down to personal taste but if you're confused as to where to start we've compiled a list that will give you a great platform to experience the variety of some of the leading online slot games. These games are all available at our recommended Internet casinos and can be played for free in practice mode or for real money wagers.
Starburst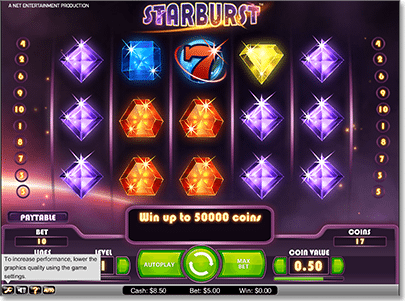 Starburst is so perfect for beginners that free spins are often offered on this game to entice new players to an online casino. Starburst makes a great starting point for newbies, with striking graphics but a simple game format, making it easy to understand while also being visually engaging. If you're familiar with the Bejewelled Blitz mobile game that had millions of Internet users addicted, Starburst looks similar in format to that, but in slot form.
Aliens
If you're sceptical as to whether online pokies can really be as exciting as real life slot machines, a couple of spins on Aliens and you'll be singing a different tune. This hugely popular pokies is based on the blockbuster James Cameron film of the same name starring Sigourney Weaver, using sci-fi animation of impeccable quality. Aliens is a great starting game for beginners as it's a clear insight into the things that land-based pokies aren't capable of; ominous sounds, space age visuals and suspense at every spin. The creepy atmosphere created by the graphics and sound effects in Aliens needs to be seen to be believed.
Thunderstruck
The first Thunderstruck slot was released by Microgaming back in 2004 and its huge popularity resulted in the release of a sequel, Thunderstruck II, which was one of the most highly anticipated slot releases to date. Despite the outdated graphics and very basic format of the original Thunderstruck, it is as popular today as it ever was and is a good basic game for beginners to see how far things have developed in recent years. Thunderstruck II is much more visually appealing, but both games offer good gameplay. Thunderstruck is based around the Greek God Thor and is sure to be an instant hit with anyone into Greek mythology.
Mega Moolah
There is nothing particularly special about the graphics or gameplay in Mega Moolah, except for the fact that it's responsible for some of the biggest wins in online casino history. Mega Moolah is a progressive jackpot slot, which means the value of the winnings increases every time the game is played. Many instant millionaires have been created simply from laying down a real money bet on Mega Moolah and because of this it's often considered the world's most popular online slot game. The game itself is quite basic but fun and vibrant and features an African safari theme, with symbols made up of cute animated creatures like giraffes, elephants and lions.
Jurassic Park
This 1993 classic blockbuster film is as loved today as it was back then, and the popularity of the Jurassic Park online pokies game is testament to this fact. This impressive slot game uses scenes pulled directly from the movie, with images of the real characters played by Sam Neill, Laura Dern and Jeff Goldblum adorning the symbols along with epically animated dinosaurs. Jurassic Park is a great slot game for beginners to experience the software ingenuity behind cinematic partnerships and is a shining example of what these collaborations are capable of.
Mr Vegas
This dazzling game is a great example of the 3D animation available for online pokies. Mr Vegas captures the glitz and glamour of Sin City, bringing the reels to life in true Vegas style. The game is full of champagne, cash, sexy women, bright lights and the charming and somewhat ridiculous Mr Vegas character himself. A great slot for some good, light-hearted fun, bringing the high rollin' casino experience right into your home.
Avalon
Like Thunderstruck, the first Avalon slot was so popular that Microgaming released a follow up game, with Avalon II fast becoming a player favourite. This pokies is based on the legend of King Arthur, using medieval style graphics and images of mystical royalty. Avalon II trumps the original hands down, but both are solid in their own right. No transition to online pokies would be complete without at least a couple of spins on this classic game.
Castle Builder
We recommend beginners add this to their list of must-try pokies, purely for the fact it provides a great example of the innovative features that software developers are coming up with. Castle Builder uses a game format that is a complete contrast to land-based slot games, where the player makes their way around the map of a fantasy world, building castles in various destinations to earn bonus points along the way. Essentially Castle Builder is just a regular pokies games and the format is the same, but its these additional special features and pioneering game designs that make us so excited about the future of online gambling.