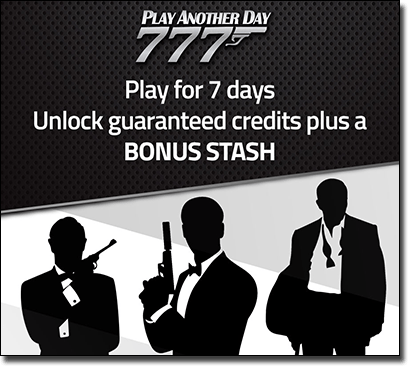 Royal Vegas Casino is giving Australian pokies players the chance to claim a share of $160,000 cash credits throughout the month of October.
The Play Another Day promotion awards free credits, multipliers and more for each day you play real money pokies at Royal Vegas between now and October 31, 2015.
The promo consists of four missions, each of which lasts a maximum of seven days.
Each day within the mission gets you a different type of reward:
Day One to Day Four – Earn guaranteed credits for each day you play
Day Five – 'Crack the Code' to multiply your winnings
Day Six – 'Defuse the Bomb' and earn an even bigger winnings multiplier
Day Seven – Unlock the 'Bonus Stash' on top of any winnings
The more days you play online pokies games throughout each mission, the bigger the cash amount in your Bonus Stash at the end of the week.
You can abort a mission at any time during the week. For example: if you get to Day Five and are satisfied with the rewards you've earned, you can call it quits there and collect your winnings.
However, you can only unlock your Bonus Stash when you go all the way through to Day Seven. So if you walk away before completing the mission, you miss out on the maximum cash bonus available.
Players must also make at least one AUD deposit per mission. This can be done at any time throughout the seven-day period.
To get started, all you have to do is:
Log in or sign up at Royal Vegas Casino
Make sure you have real cash credits in your account
Hit 'Start Mission' on the Play Another Day promo screen
You can find out more details about this exciting deal and its requirements by clicking the information tab (i) next to the 'Start Mission' button.
Sign up to join the Play Another Day promotion and win a share of $160,000 on cash prizes at Royal Vegas Casino.
In addition, there's still time to join the $15K lottery at Guts Casino which is running until the end of October, so don't miss out your chance to win large.