With hundreds of online pokies available and new titles emerging constantly, it goes without saying that software developers have had to come up with some pretty bizarre themes to keep their games varied and interesting. From obscure movies and quirky characters to the blatantly sexist, we present our list of the 10 strangest Internet pokies games.
Best online pokies sites for weird games
Casino
Bonus
Games
Pokies
Signup
1. Peek Physique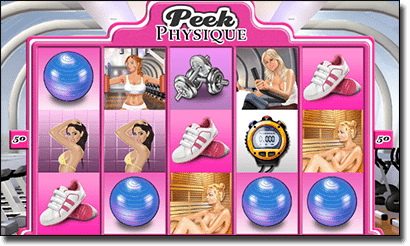 Saucify's Peek Physique is a kind of hybrid blend of 80's aerobics culture, a home fitness infomercial and Girls Gone Wild all rolled into one strange slot game. Peek Physique is based around what we can only assume is a gym of the same name, with reels filled of symbols containing cartoon women who look more pole dancer than fitness fanatic along with retro fitness gear. The soundtrack is a synthesised 80s back beat and whenever you land a win, you're rewarded with the "seductive" sound of a giggling girl. Strange, for sure, but if naked women in saunas or bikini clad girls on treadmills is your thing you'll certainly get a kick out of this tacky but hilarious pokies.
2. Nacho Libre
Wondering if we're talking about the same Nacho Libre as the 2006 Paramount Pictures film starring Jack Black on his quest from the monastery to compete as a Luchador? The answer is yes, yes we are. This iSoftBet game baffles us for sheerly for the fact that Nacho Libre the movie was a flop with both critics and audiences, so it seems a strange choice to adapt for online gambling. Even more bizarre is the fact that this game is actually pretty awesome – it's graphically vibrant, features a crisp, innovative design and has tonnes of special features like stacked wilds and free spins. If you like Mexican wrestling Nacho Libre will provide some fun entertainment and iSoftBet's game certainly trumps the movie.
3. Bridesmaids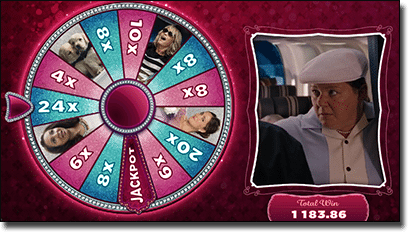 Bridesmaids the movie starring Kristen Wiig, Rose Byrne and Melissa McCarthy made cinematic history as one of the most impressive female dominated comedy blockbusters of all time, but we can't help but ponder over its relevance in the pokies world. This 2015 Microgaming release was one of the most anticipated games of the year and while the result is a fun slot game packed with sweet bonus games and scene grabs from the real movie, it's definitely strange to see the Bridesmaids cast rolling over the reels for real money bets.
4. Esqueleto Explosivo
This beautiful game by Thunderkick is actually one of our favourite online pokies games, but it needs to be mentioned in this list given its sheer quirkiness. The game follows a mariachi band of skeletons aptly named Enrico Mortis and The Boners as they strum up a storm in celebration of The Day of the Dead. When a win is landed, The Boners break out into hilarious song before exploding to make room for new symbols. Look out for an appearance from Enrico Mortis, a kind of rockabilly Elvis sugar skull, for those big wins. Such a fun, unique and utterly strange pokies game.
5. Megadeth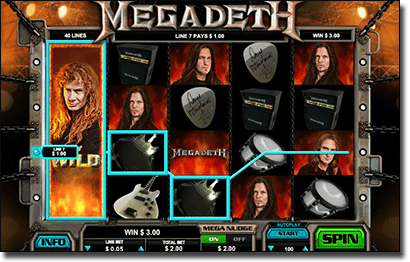 One of the biggest heavy metal bands of all times, Leander Games has immortalised Megadeath forever by turning the band into a pokies game. Finally one for the metal head gamblers out there! The Megadeth slot game is filled with images of the long haired Californian band along with all kinds of rock and roll paraphernalia like electric guitars, amps, drums and signed guitar picks. This one needs to be played with the volume up to really set the scene of a thrash metal stadium show, with strong guitar riffs and a screaming crowd. It's a good game, we just can't get past the thought of development team sitting down with these old rockers to discuss the specifics of the game design over a cup of coffee at a board room table.
6. The Love Guru
iSoftBet is an incredible software design company which just so happens to also have some of the strangest movie partnerships with Paramount Pictures. Case in point The Love Guru, certainly not one of Mike Myers finest hours. The 2008 film was a kind of Austin Powers meets Bollywood nonsensical yet star studded flop (with cameos from Kanye West, Jessica Simpson, Justin Timberlake and Deepak Chopra) which was slammed by critics, so it's definitely strange to see it hand selected to become a pokies game. The Love Guru actually translates pretty well into a pokies game, using colourful Indian inspired designs and although it features many of the real characters, there's no sign of Mike Myers as though he too wanted to remove any association between himself and this strange pairing.
7. Freaky Gym
We're not too familiar with developer GamesOS but the name of this game really says it all. Freaky Gym is a strange creation, featuring all kinds of odd creatures (aliens? Monsters? Blobs of matter? We're really not too sure) as they jump ropes, pump weights and get their karate on at the gym, complete to a weird soundtrack and all kinds of quirky (and admittedly kind of creepy) sound effects and voices.
8. Basic Instinct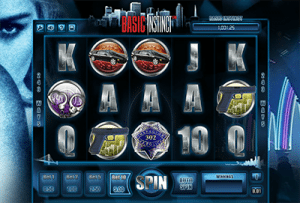 Always dreamed about seeing this classic 1992 erotic thriller brought to life in pokies form on your computer? Nope, neither did we, but once again iSoftBet have delighted us with the release of yet another strange movie collaboration. Basic Instinct pokies is pulled off in great iSoftBet style and no one's complaining about an animated Sharon Stone, but this game choice definitely leaves us scratching our heads.
9. Glam or Sham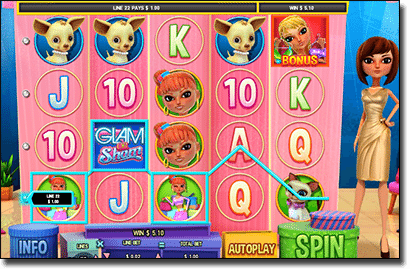 Leander certainly has the skills, but they also certainly know how to throw a strange game idea into the mix. Glam or Sham is kind of like Project Runway meets Barbie and was created to appeal to the more feminine fashionista gamers out there. Symbols are filled with purse sized Chihuahuas, cute kitties, clothes and there's even a well dressed woman standing on the side of the reels waiting to jump up and down and clap excitedly when you land a win. A bonus game lets you stand off against another fashionable character. It's basically the kind of pokies game that Paris Hilton would design if given the chance, with an infuriating xylophone tune pounding away the whole time.
10. Alaxe in Zombieland
This 2012 Microgaming pokies deserves a mention due to the sheer absurdity of its theme – Alice in Wonderland in full zombie style. The graphics certainly leave something to be desired, but if you've ever wondered what the literary classic by Lewis Carroll would look like if the Mad Hatter used his hat to carry blood, Alice resembled a demon child and the Cheshire Cat was out to swallow your soul then Alaxe in Zombieland pokies is the answer to your wildest nightmares.
To learn more about quirky casino games, check out these articles for a fun read:
There's definitely some laughs to be had playing any of these odd pokies games, so if you want to try these weird titles for yourself head to Slots Million. With over 1700 pokies on offer, Slots Million is your place to go to find some of the stranger, more obscure pokies on the Internet.